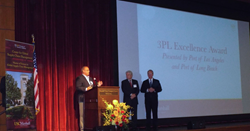 'We pride ourselves on providing our clients with flexible solutions to their complex supply chain requirements while balancing cost, quality and speed to market,' says Taylored Services CEO Jim DeVeau.
Los Angeles, CA (PRWEB) September 18, 2015
Taylored Services, based in Edison, NJ, has been recognized with a 3PL Excellence Award, by the USC Marshall School of Business Center for Global Supply Chain Management, for exemplifying an exceptional customized service model that balances cost, quality, and speed as a third party logistics provider.
Selection of award recognition candidates was made jointly with USC, the Port of Los Angeles and Port of Long Beach.
Award was presented to Taylored Services CEO, Jim DeVeau, at the Supply Chain Excellence Summit at the USC Ronald Tutor Campus Center in Los Angeles on September 11, 2015 in front of ~400 corporate executives across industries.
Business leaders of Fortune 100 and Fortune 1000 companies convened in the Ronald Tutor Campus Center Friday to network and discuss industry practices during the third annual Global Supply Chain Excellence Summit hosted by the Marshall Center for Global Supply Chain Management.
Nick Vyas, director of the Center for Global Supply Chain Management, said that this event was the summation of his vision for what he wanted to accomplish when he initially created the center.
Taylored Services is a fully integrated third party logistics provider (3PL) operating 1,700,000 sq. ft. of warehouse and distribution space strategically located within 30 miles of the ports of Long Beach, CA and Newark, NJ. Taylored is at the forefront of client satisfaction having won three (3) Wal-Mart vendor of the year awards for their clients, and just recently was named a TOP 100 3PL by Inbound Logistics magazine in their July 2015 edition.