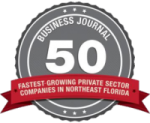 We saw a need in the market for private health exchanges and delivered one of the best technologies to our associations
Jacksonville, FL (PRWEB) September 17, 2015
The Jacksonville Business Journal recently held its 2015 Fast 50 Awards luncheon recognizing the fastest-growing companies in Northeast Florida by revenue. Member Benefits received the distinction of the 8th fastest growing private company in Northeast Florida and the fastest growing company in the insurance and financial services sector. The list of 50 represents privately owned companies that are headquartered in Baker, Clay, Duval, Flagler, Nassau, Putnam or St. Johns counties.
Member Benefits is an insurance broker and third-party administrator that specializes in working with associations' member benefits insurance programs. It has seen rapid growth through several key new association clients and through the release of its unique private health insurance exchange solution.
"We saw a need in the market for private health exchanges and delivered one of the best technologies to our associations," said Earl "Chip" Trefry Jr., CEO and owner of Member Benefits. "This, combined with our product offering, has driven growth from our current associations and has brought on even more associations."
About the Jacksonville Business Journal's 50 Fastest Growing Private Company Awards:
Based on verified financial performance for the past three years, the Jacksonville Business Journal and Ennis, Pellum & Associates CPAs, announced the 50 fastest-growing, private companies in Northeast Florida. The class of nominees increased in both size and scope from last year, proving to be very competitive. To be eligible, the companies must have met the following criterion:

The company must be privately held, locally owned and for profit.
It must be headquartered in Baker, Clay, Duval, Flagler, Nassau, Putnam or St. Johns counties.
It must have overall revenue growth from 2012 to 2014 and a revenue gain from 2013 to 2014.
It must have been in business since at least 2011.
It must have had annual revenue of at least $1 million in 2014.
About Member Benefits:
Member Benefits is a full-service insurance and benefits third party administrator specializing in the design, marketing, and administration of employer group and professional association member benefits programs. Member Benefits operates in many states with locations in Jacksonville, FL and Austin, TX. For more information, visit http://www.memberbenefits.com