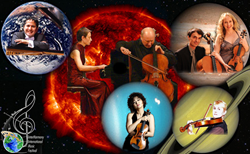 Cellist Misha Quint, founder of IIMF, and other distinguished artists present a program of musical and cultural dialogue that lays the essence of music bare
New York, New York (PRWEB) September 18, 2015
Cellist Misha Quint, founder of IIMF, and other distinguished artists present a program of musical and cultural dialogue that lays the essence of music bare: the bold, challenging and redemptive attempt to communicate between people, between culture – between worlds. The InterHarmony Concert Series continues in the new year with performances on January 23, 2016 and April 1, 2016. For tickets call CarnegieCharge at 212.247.7800 or, for more information, go to http://www.interharmony.com.
Music offers us a language in which to speak when words fail, emotions overwhelm, and differences seem insurmountable. But when it comes to bridging great distances, the InterHarmony International Music Festival, which has been bringing together students, teachers, and soloists from around the globe for almost two decades, is on its home turf. For the opening night of the IIMF's fourth annual concert series at Weill Recital Hall, Music Director Misha Quint presents a program that celebrates music's role as a universal ambassador: between individuals (in the duos of Berio, Shostakovich and Ravel), between styles (in Mark O'Connor's genre-defying F. C.'s Jig) and even between hemispheres (in Ginastera's synthesis of New World traditions and Old World techniques). http://www.carnegiehall.org
The duo gives musical expression to that most basic human situation: two people speaking, exploring the whole range of emotion, trying despite the odds to understand one another. Violinist Jennifer Dalmas and cellist Evgeni Raychev will present Maurice Ravel's Sonata for Violin and Cello, surely one of the great examples of the duo form. A conversational drama develops between the low and high voice, in which the roles of lead and accompaniment intertwine seamlessly. They discuss polyphonically, disagree sharply, even as to the key, seduce and reject each other, moving imperceptibly but inexorably towards reconciliation in the final chord.
Shostakovich's Sonata for Violoncello and Piano, performed by cellist Misha Quint and pianist Irina Nuzova, offers a dialogue at least as intimate, in a romantic register far removed from Ravel's stark delicacy. The wistful opening movement overflows with melancholic melodies of heart-stopping beauty. The bellicose ostinato of the Allegro ricochets back and forth between the instruments, interrupted by themes of unbridled enthusiasm. One of Shostakovich's most impressive early works, written just before the Great Terror, it seems to dance at the edge of the abyss, until the nervous laughter of its carnivalesque Finale is cut suddenly short.
Luciano Berio's Duetti per due violini form a kind of musical sketch book, each one a miniature portrait of a friend, acquaintance or inspiration. "Behind every duet there are personal reasons and situations" Berio says, "connected by the fragile thread of daily occasions." To explore the complexities and contradictions of single individuals, Berio takes two voices, clashing and collaborating. Violinists Yeon-Su Kim and Inga Kroll offer a selection of ten of the 34 Duetti showing the technical and emotional breadth of Berio's violin writing.
Ginastera embodied his own interior dialogue in his First Piano Sonata, performed here by pianist Washington Garcia. Torn, like his homeland Argentina, between native gaucho folk music and the intriguing possibilities of European imports, Ginastera created a powerful synthesis, a cosmopolitan voice distinctly his own, with one foot on each side of the ocean. His Sonata is now widely seen as the quintessential Argentinian contribution to piano music.
A child prodigy who swept Nashville in grade school and toured the world as a teenager, Mark O'Connor has won fame in recent years for his own transatlantic fusion of traditions: 'American Classical string music.' His Fiddle Concerto, commissioned by the Sante Fe Orchestra in 1993, has become the most performed violin concerto of recent years. F.C.'s Jig, as the name cleverly suggests, is an arrangement of its free-wheeling dance movement. Violinist Jennifer Dalmas and cellist Evgeni Raychev will perform.