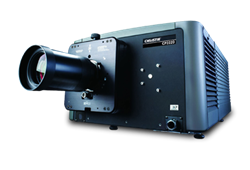 Christie provides our circuit the reassurance that we're receiving the latest technology innovations and services.
Cypress, California (PRWEB) September 17, 2015
Christie®, a global leader in advanced cinema technologies, was selected as the exclusive provider of entertainment solutions to power all 10 screens at the recently opened Movie Tavern Citiplace in Baton Rouge, Louisiana.
The solutions comprise a range of Christie Solaria Series DLP Cinema® projectors for 2D and 3D entertainment, including the Christie CP2215, Christie CP2220, and Christie CP2230, all of which provide a fully immersive, affordable cinema experience for screens from 50 to 100 feet wide. Every auditorium is also powered by Christie Vive Audio™ systems, which feature the revolutionary single enclosure line array speaker design and ribbon driver technology purpose-built for cinema environments. The 10-screen installation will be backed by Christie's industry-leading Professional Services and technical expertise.
Following $6 million in renovations, the new, state-of-the-art entertainment center continues Movie Tavern's national expansion efforts dedicated to creating the premier full service in-theater dining destination across 21 theaters and 171 digital screens. Every theater offers a unique experience where patrons can enjoy the ultimate "dinner and a movie," with cocktails, meals, desserts and snacks served throughout the show. State-of-the-art amenities include all-reserved stadium seating, comfortable recliners with call-button service, a full bar and casual dining menu composed of entrees, appetizers and other popular food options.
"Selecting the suite of Christie entertainment solutions from their Solaria projectors and Vive Audio line is an integral part of our strategy," said Ron Krueger II, President and Chief Operating Officer, Southern Theatres, which owns Movie Tavern. "Complemented with their design, installation services, and monitoring through their Network Operations Center, Christie provides our circuit the reassurance that we're receiving the latest technology innovations and services. It's an invaluable peace of mind that allows us to focus on delivering to our guests a first-class, family-friendly entertainment experience."
Southern Theatres was one of the first major exhibitors in the U.S. to power a multiplex exclusively with Christie Vive Audio and Christie Solaria Series projectors – the Grand 14 Esplanade in Kenner, Louisiana, which opened in 2013; and the Movie Tavern Northshore in Covington, Louisiana, which opened in 2014. In addition to the Movie Tavern in Baton Rouge, Louisiana, Southern Theatres also plans the Christie Vive installation at the Movie Tavern in Flourtown, Pennsylvania.
"Throughout our 85-year history, Christie has strived to deliver complete entertainment solutions that meet the needs of filmmakers and exhibition partners," said George Scheckel, Sr. Director, Entertainment Solutions - Americas, Christie. "We are fortunate to have equally visionary exhibition partners like Southern Theatres' Movie Tavern that welcome the latest developments in cinema technology, and embraces innovative designs through their continued adoption of Christie Solaria and Vive Audio for all their auditoriums."
The new Movie Tavern Citiplace features the full range of Christie Vive Audio speakers, including screen channels (LA1, L3, LA4), surrounds (LS3S, LA3S), subwoofers (S218), and various Vive Class D amps.
About Movie Tavern
Founded in 2001, Dallas-based Movie Tavern is a leader in the cinema eatery segment catering to adults and families with 21 high-quality theatres and 171 digital screens in nine states. In September 2013, Movie Tavern was acquired by New Orleans-based Southern Theatres, a portfolio company of Veronis Suhler Stevenson (VSS), a leading private equity firm. With the acquisition of Movie Tavern, Southern Theatres became the eighth largest theatre company in North America.
About Christie
Christie Digital Systems Canada Inc. is a global visual and audio technologies company and is a wholly-owned subsidiary of Ushio, Inc., Japan. Consistently setting the standards by being the first to market some of the world's most advanced projectors and complete system displays, Christie is recognized as one of the most innovative visual technology companies in the world. From retail displays to Hollywood, mission critical command centers to classrooms and training simulators, Christie display solutions and projectors capture the attention of audiences around the world with dynamic and stunning images. Visit http://www.christiedigital.com.
Follow us:
Twitter.com/christiedigital
Facebook.com/christiedigital
Mention us:
#ChristieDigital
#ChristieVive
"Christie" is a registered trademark of Christie Digital Systems USA, Inc., registered in the United States of America and certain other countries. Christie Solaria® Series is a registered trademark of Christie Digital Systems USA, Inc. Vive Audio™ is a trademark of Christie Digital Systems USA, Inc., DLP and DLP Cinema® are registered trademarks of Texas Instruments.