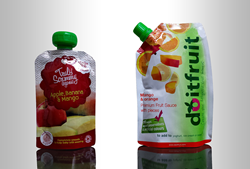 SAUKVILLE, Wis. (PRWEB) September 16, 2015
Matrix Packaging Machinery, powered by Pro Mach, features for the first time at Pack Expo Las Vegas, September 28-30, a new option for FLtecnics horizontal form fill seal pouch machines – the capability to form top or corner spout pouches from the same applicator. FLtecnics pouch machines, which are distributed and supported exclusively in North America by Matrix, use a new patented process for single applicator spout insertion and provide throughput of up to 85 pouches per minute. (Matrix Booth C-3323)
The new option for the model 1.4 for smaller pouches and the model 1.7 for larger ones delivers significant savings to in-house packaging operations and co-packers because one flexible machine is capable of packaging so many different items in various pouches: liquid or dry products packaged in zippered, top or corner spout, flat, stand up, and/or shaped pouches. These machines even package wet-wipes. Many different pouch sizes are available for the 1.4 and 1.7 with volume 34-55 fluid oz. (1000-1650 cc), width 3.3-6.7 in. (85-170 mm), and length 3.9-11.8 in. (100-300 mm). These machines utilize one piece spouts with child choke-proof caps. The series is available in an ultra-clean configuration.
Automatic format changeover and easy adjustment systems reduce the time required to switch from one style of pouch to another by up to 50 percent as compared to other form fill seal pouch machines. These walking beam machines are servo driven for high accuracy and low maintenance. The FLtecnics machines have a smaller footprint than comparable units to conserve valuable floor space.
The new stroke on demand feature, which automatically stops the machine should product not be available, is an additional option for the FLtecnics machines. Once sufficient product has entered the filler, the controller starts the machine up again without missing a beat or having to index two or three empty pouches to catch up. Matrix estimates that the stroke on demand option can eliminate up to 98 percent of the film waste commonly occurring when machines stop due to lack of product. The series automatically adjusts film height and registration while running, producing higher quality packaging with less waste.
FLtecnics mechanical components are warranted for three years; electrical components for one year. For more information on the new top or corner spout all-in-one option for FLtecnics horizontal form fill seal pouch machines distributed and supported in North America by Matrix, call 262-268-8300. And visit http://www.MatrixPM.com to learn more about the company's full line of vertical form-fill-seal, pre-made pouch, roll-stock pouch, and stickpack and sachet packaging machines.
About Matrix
Matrix Packaging Machinery is an industry-leading manufacturer known for vertical form-fill-seal, pre-made pouch, horizontal roll-stock pouch, and stickpack and sachet packaging machines. Since 1988 Matrix has built a solid reputation for delivering rugged, well-engineered, cost competitive, and easy-to-use packaging systems backed by outstanding customer support. Matrix solutions are in operation throughout the world, handling a wide range of products in very diverse conditions. http://www.MatrixPM.com
About Pro Mach
Pro Mach is a leading provider of integrated packaging and processing products and solutions for food, beverage, consumer goods, pharmaceutical, and other diverse companies. Through its brands, Pro Mach provides product packaging and processing equipment, PMMI certified training, installation, parts, and service in Bottling & Capping, Primary Packaging, Flexible Packaging, Material Handling, Labeling & Coding, and End of Line.
Pro Mach has a diverse customer base, from Fortune 500 companies to smaller, privately-held businesses worldwide, which depend on reliable, flexible, technologically advanced equipment and integrated solutions. Pro Mach is headquartered near Cincinnati, Ohio, with manufacturing facilities and offices throughout the United States, Canada, Mexico, and Europe. For more information about Pro Mach, visit http://www.ProMachInc.com.