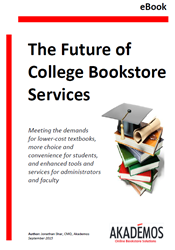 NORWALK, CT (PRWEB) September 21, 2015
Today, Akademos, Inc. announced the release of a new eBook highlighting what the future holds for college bookstore services. Since 1978, college textbook prices have grown 945%, increasing 3.5x times faster than the Consumer Price Index. College administrators, faculty, students, and parents are increasingly concerned about the escalating cost of textbooks. Colleges are now searching for new solutions to lower costs and support their core mission of educating students.
The Future of College Bookstore Services eBook focuses on the challenges college administrators face regarding the cost of textbooks and course materials, while sharing potential solutions to enable institutions to thrive in the future. The eBook includes proprietary research providing an important snapshot of the current market landscape, key developing trends, and revealing data points that suggest how bookstore services will need to adapt going forward. Case studies and best practices walkthrough new bookstore service models that a growing number of institutions have already implemented and are seeing immediate results.
"The Future of College Bookstore Services eBook provides a roadmap for college and university administrators to help navigate the challenges they face regarding the cost and distribution of textbooks and course materials." said Jonathan Shar, Chief Marketing Officer of Akademos. "While every campus is unique and requires a customized solution to address many distinct challenges, the one thing that is clear is that the time to take action is now."
To download a copy of The Future of College Bookstore Services eBook, go to http://info.akademos.com/future-college-bookstore-services. This exclusive eBook is available at no charge.
To learn more about expanding affordable textbook options for students and Akademos' online bookstore services for educational institutions, visit http://www.akademos.com.