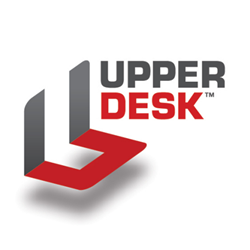 On November 1, his patented, award winning invention—Upper Desk's Portable Tablet Mount for Cabinets, will be featured in 205 Sam's Club locations via the 2nd Annual 30 Minutes to Win It program.
HUGHESVILLE, PA (PRWEB) September 16, 2015
Did you ever dream of seeing a product that you invented on the shelves of a major retailer, but dismiss the notion because you think that the American dream is unattainable?
Think again.
For Roderick Phillips, Hughesville, PA, the dream is becoming a reality. On November 1, his patented, award winning invention—Upper Desk's Portable Tablet Mount for Cabinets, will be featured in 205 Sam's Club locations via the 2nd Annual 30 Minutes to Win It program—an innovative initiative that brings new, exciting, quality products to club locations.
"The program demonstrates Sam's support of small businesses and its dedication to delivering value driven choices to its members," says Phillips. "We are honored for the opportunity to be part of that."
Like most Americans, Phillips counts on his weekly paycheck to survive. Although he is closing in on retirement age, Phillips, 61, a full time electrician, still punches a time clock at one of the nation's largest food manufacturing plants—the same facility he has worked at since 1983.
Together, with his daughter, Stephanie Phillips-Taggart, and Upper Desk CEO, Matthew Fidler, the team with small-town Pennsylvania roots are reaching for the stars.
"My father has always thought outside of the box. He would often think of ideas for new products, then years later, we would see them on the shelves." says Phillips-Taggart. "He never had time to bring a product of his own to market because he was caring for my mother who was ill during most of their 34 years of marriage."
The late Debra Phillips, who was diagnosed Leukemia and survived an experimental bone marrow transplant at UCLA and an subsequent organ transplant, died in January 2009, but not without leaving behind a legacy of encouragement.
"She left a letter for my dad. It encouraged him to keep inventing--she knew he would come up with something really great someday," says Phillips-Taggart.
The "someday" came sooner rather than later. As a way to cope with his wife's death, Phillips began trading currency using his personal computer which primarily sat on his kitchen table. He found himself hunched over his technology and knew there had to be a better way. He wanted a more ergonomically correct position to use his computer while standing. Looking around, he saw his cabinets as an opportunity.
"I devised a working prototype and when Steph saw it, she become ecstatic," says Phillips. Phillips-Taggart added, "I remember looking under his cabinet and saying, 'Wow, dad, how did you do that?' His computer was literally suspended slightly below his cabinet. He didn't drill or harm his cabinets in any way. Instantly, I knew that we needed had to chase the American dream in honor of my mother."
It didn't take her long to redirect her career path—shifting her efforts from her 12 year freelance writing career to helping her father develop his invention.
The father/daughter team turned to Bucknell University, Lewisburg, PA and Pennsylvania College of Technology, Williamsport, PA for help. The two entities assisted with patents, manufacturing and engineering components; however, the duo struggled with market opportunities. That's when an unsuspecting connection occurred.
"I went on a fishing trip and met Matthew Fidler—a business savvy entrepreneur with degrees from Bloomsburg University, Drexel University, and the University of Pennsylvania. Not only did he have 20 years of experience working with Fortune 500 companies, but he also had experience with start-up companies. He liked the product—and the rest is history," says Phillips.
"After hearing Rod's story, I knew I needed to help," says Fidler. "We established corporate infrastructure and put business processes in place to enable the launch and growth of a successful business."
Together, the team has traveled around the world to inspect manufacturing facilities. They initiated relationships with a first class EDI compliant fulfillment center, a call center, a worldwide logistics provider, and developed additional products for market.
Accumulating major accolades for their efforts, Upper Desk has received the 2015 Pennsylvania Small Business Impact nomination, 2014 Gold Award for Innovation at the National Hardware Show, Las Vegas, the 2014 International Home and Housewares Association Innovation Finalist Award, Chicago, and the 2014 New Product Development Award from Bucknell University's Small Business Development Center.
But amongst the trophies, awards and patents, there is a trail of blood, sweat and tears.
"We've given it our all—right down to investing our life savings," says Phillips. "Hopefully, soon the team can look back and smile."
Fidler concluded, "Every day in the news you hear about the death of the American dream and the decline of American small businesses. Companies like Upper Desk are keeping the American dream alive."
For more information, visit http://www.upperdesk.com and http://www.susquehannalife.com/2015/06/18/75694/every-day-is-father-s-day.
About Upper Desk:
Upper Desk, Inc. provides innovative technology solutions for daily living. Dedicated to enhancing life, the company's expanding product line meets the growing needs of smart phone, tablet and laptop users. Delivering modern, functional items that help protect personal computers, Upper Desk fits any lifestyle. From the home to office to medical and industrial settings, Upper Desk places technology where you need it.