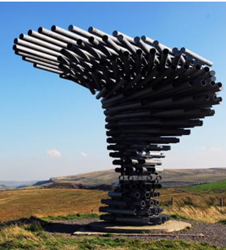 "It isn't every day we get a chance to be a part of history. The staff at JK Welding considers it a great honor to contribute its expertise to Austin's public space." -- John King, JK Welding
Houston, TX (PRWEB) September 22, 2015
JK Welding is proud to break ground and construct the Western Hemisphere's first Ringing Singing Tree. Comprised of cascading pipes, this unique art sculpture enables the wind to create beautiful and haunting melodies.
The finished Ringing Singing Tree will be installed in Austin, TX within six months of its construction start date in September 2015. Houston-based JK Welding, the region's premier welding and metal fabricators, is proud to announce the company's involvement with this unique and historic sculpture.
"We are thrilled to be a part of this groundbreaking art project," said John King of JK Welding. "It isn't every day we get a chance to be a part of history. The staff at JK Welding considers it a great honor to contribute its expertise to Austin's public space."
The Ringing Singing Tree is estimated to stand nearly 17 feet tall and weighs 20 tons, incorporating 22 levels of precision piping. This is a wind-powered musical sculpture that takes its cue from two like-designed sculptures in Britain and Saudia Arabia but designed by Tonkin Liu LLC. Its galvanized steel pipes are arranged in a stacked swirl formation mimicking a tree bent as it's blown by the wind. As the wind whispers through these pipes, a haunting and melodious hum covering several octaves ushers out. Every time a guest sits underneath this fantastic art and music-based sculpture, they will hear a different song.
King explains that the steel pipes are fabricated both for aesthetical qualities and toning. Specific narrow slits are added on the underside of certain, expertly placed pipes to produce their desired sound. The Singing Ringing Tree of Great Britain has been named as one of 21 nationally placed landmarks that define Britain in the 21st Century. It is JK Welding's hope that Austin's sculpture will have a similar impact on the Texan landscape.
The Austin Ringing Singing Tree will be on public display at 18433 FM 529 Cypress, TX 77433 for six months to a year. To learn more about this music-powered sculpture and its unique construction, visit http://www.jkwelding.net.
About JK Welding
JK Welding is Texas's premier source for welding, custom fabrication, design, and installation for jobs and projects of all sizes and scope. As a one-stop shop, the company works with clients to provide astounding results from design to fabrication to assembly. A team of highly skilled fabricators performs custom fabricating whatever the plans, concepts, or ideas call for.
JK Welding is a locally owned and operated metal fabrication shop. Originally started by John King in his garage over a decade ago, the company now operates a state of the art facility and serves clients throughout Houston, San Antonio, Austin, Dallas, and surrounding areas.
To learn more about this sculpture visit http://www.tonkinliu.co.uk/projects/singing-ringing-tree OR to learn more about JK Welding, visit http://www.jkwelding.net or email sales(at)JKWelding(dot)net.