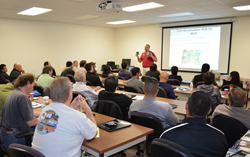 Hayward, California (PRWEB) September 17, 2015
Western State Design, Inc. will host two Dexter Service Schools in California where owners and operators will learn to maintain their coin-op Dexter laundry equipment and utilize custom features designed to maximize performance, improve and streamline customer experience, and increase revenue.
The October 6 event will be held at the WSD headquarters in Hayward, California, and the October 8 event will be held at their location in Cerritos, California. Both Service Schools run from 9 a.m. to 3 p.m., a complimentary lunch will be provided.
The comprehensive workshops will also include training on the Dexter C-Series washers and dryers introduced in 2014 with cutting-edge smart technology. The C-Series streamlines coin-op laundry customer experience and offers laundry owners and managers customizable settings for increased efficiency at their facilities.
The Dexter Laundry C-Series coin-op machines are powered by DexterLive and include access to DexterLive.com, Dexter's new smart vended laundry app. DexterLive allows operators to program cycle settings and offer multiple upsell features so they can choose the perfect options for their business and provide ample choices for their customers.
With DexterLive.com, owners or managers can easily create optimized settings, save them to USB drives, and transfer them to their Dexter C-Series equipment through convenient USB ports on each washer and dryer. With the interactive app, coin-op laundry owners can collect and analyze real-time equipment usage rates in their facilities, giving them insight into the best times and days to offer discounts to their customers. Any promotions and customized pricing plans are easy to program on DexterLive.com and convenient to transfer to all C-Series equipment.
Accessible anywhere, from any device with the network option, DexterLive.com gives owners and managers the ability to track and manage the operation of their Dexter C-Series equipment remotely. The app can be programmed for one or multiple users in order to streamline business operations with partners, managers, store employees, and technicians. The apps' Notes section is the perfect place to track and store maintenance and service records for each washer and dryer.
The core of each C-Series' coin-op laundry machine is as rugged and durable as all of Dexter's washers and dryers. They are available in vended washer, vended stack dryer, and vended stack washer-dryer combinations to allow for the best and most efficient laundry floor plans.
To register for the Western State Design Dexter Service Schools, call 1-800-633-7153 x. 301, or visit Western State Design.
With more than 40 years of experience as a premier, full-service distributor to the coin-op laundry industry, Western State Design has grown to become one of the largest coin laundry equipment distributors in the world. Western State Design is proud to be a Dexter Authorized Distributor, and has been recognized as the No. 1 Dexter Distributor Worldwide from 2009 to 2014. Dexter Laundry located in Fairfield, Iowa, is an employee owned leading manufacturer of commercial laundry equipment. All equipment is manufactured in Iowa. Visit WSD online at http://www.westernstatedesign.com or call tool free at 1-800-633-7153.