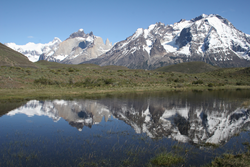 Helena, Ala. (PRWEB) September 16, 2015
International Expeditions has added two new small-group options in Patagonia, where the company has offered wildlife-focused experiences for more than a decade. Each expedition is led by knowledgeable expedition leaders and guides who help travelers delve into the nature, history and culture of this distinct region. Noted author, photographer and ornithologist Claudio Vidal leads many of the programs and worked closely with IE to develop these distinct tours.
Travelers experience the southernmost reach of the Andes on International Expeditions' Patagonia adventure spanning both Chile and Argentina. Traveling with IE, guests spot an array of wildlife including guanaco, southern grey fox, upland goose and Chilean flamingo on the shores of Bahia Inutil — "Useless Bay," and hike the tundra of Torres del Paine. Plus, guests travel to El Calafate in Argentina, allowing for a full-day exploration of Los Glaciares National Park. Highlights of IE's signature Patagonia itinerary include encounters with two species of penguins — noisy Magellanic and rare king, hikes and boating excursions, and a survey of Patagonia's culture and cuisine with a traditional lunch at an historic gaucho ranch. 11 days from $6,098.
Travelers on International Expeditions' new Patagonia: Pumas, Penguins & Whales tour enjoy special opportunities to observe three iconic wildlife species while discovering the wild reaches of Torres del Paine National Park, Tierra del Fuego and Carlos III Islands. Under the guidance of expert naturalist guides, this intimate group of no more than eight travelers enjoys days full of both day and nighttime puma searches, a walk among king penguins in the world's most accessible colony, and discovery of the social patterns of gentle humpback whales on Zodiac excursions. 11 days from $5,298.
IE's Northern Archipelago & Chiloe Island tour was crafted to help travelers discover a seldom-visited region connecting the Andes and Pacific with daily excursions surveying volcanoes, forests and glacial lakes interspersed along the Andean foothills. From the temperate rainforests of Tepuhueico Park to the San Rafael Glacier, northern Patagonia blends extraordinary wildlife and natural beauty with the charming culture of the Chilotes. Under the guidance of local guides, guests discover distinct Chiloé Island, a small isle populated by scattered villages where homes, boats and the famed churches — a collective UNESCO World Heritage Site — are still built using the techniques taught by generations past. Serving as a delightful base for five nights is the family-owned Skorpios II. 12 days from $5,998.
Guests on any of these programs can add an expedition cruise through the Chilean Fjords aboard the superb Via Australis.
For more information on International Expeditions call 1-800-234-9620.
About International Expeditions
Celebrating 35 years of nature travel, International Expeditions specializes in small-group journeys to Earth's most exhilarating destinations. A pioneer of environmentally responsible travel, IE is committed to preserving natural habitats and improving the welfare of the people and communities it visits. International Expeditions has been named to Travel + Leisure's list of "World's Best" tour operators & safari outfitters seven times and to National Geographic ADVENTURE magazine's list of "Best Adventure Travel Companies on Earth."