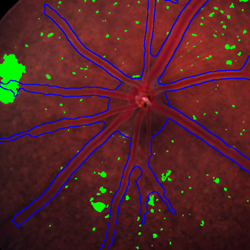 Cleveland, OH (PRWEB) September 17, 2015
ImageQuantify.com, an online automated platform for quantitative preclinical image analysis and data aggregation created by ImageIQ, today announced the addition of the Mouse Fundus Lesion Analysis IQbot to its publicly available collection of image analysis and documentation research tools. This new IQbot eliminates the ophthalmic image analysis bottleneck facing member research institutions of the International Mouse Phenotyping Consortium (IMPC) and domestic Knockout Mouse Project (KOMP) — each of which are large-scale projects with influential participants jointly building the first comprehensive mammalian (mouse) genome catalog. Using ImageQuantify.com expands the amount of data available and provides a centralized system to share data via a common online analytical tool.
"IQbots" are the engines that power the ImageQuantify.com analysis and management workflow — tools for common or custom preclinical imaging assays that deliver validated, comprehensive analytics that are objective, reproducible, and accessible. Within every IQbot results package researchers receive complete data (i.e., quantitative excel spreadsheets, image analysis overlays, usable file formats), image analysis validation certificate, and reference materials (e.g., a video walkthrough of output data, relevant references from scientific literature, materials/methods section(s), and material to support GLP compliance).
The Mouse Fundus Lesion Analysis IQbot automatically segments objects (lesions) on images of a mouse retina acquired using a fundus camera. A lesion is defined as any object that deviates from the general surrounding retinal color profile. Such deviations are generally brighter and vary in hue. These lesions can result from a number of pathologies, such as diabetic retinopathy, dry AMD, and diseases that generate focal regions of depigmentation. In order to remove any contribution of the optic nerve and vessels to the lesion count and area, the IQbot also segments these features prior to isolating, pseudo-coloring, and analyzing lesions. Analysis outputs include individual and total lesion areas, lesion locations (x,y-coordinates), the optic nerve centroid, and pseudo-colored overlays that provide segmentation visualization of the optic nerve, vessels, and lesions.
This IQbot will join the existing ImageQuantify.com catalog in assisting users to more effectively (in terms of the quality standard of the data) and more efficiently (in terms of cost and time-to-analysis) generate the imaging data for their research. As with all prior offerings, the Mouse Fundus Lesion Analysis IQbot was developed and released following a rigorous validation process that stressed the accuracy and reproducibility of the produced data.
ImageQuantify.com software engineers are consistently building new IQbots to add to the processing catalog, and clients may request specific IQbots to be created for their research.
About ImageQuantify.com
Created by ImageIQ, ImageQuantify.com is an online quantitative image analysis service for preclinical research. Using secure cloud technology and the ease of e-commerce, ImageQuantify.com provides validated and automated image analysis software tools for common preclinical imaging assays. As a result, all preclinical researchers may now take advantage of accurate, reproducible, objective imaging analytics that are both affordable and easily accessible. ImageQuantify.com's preclinical services are backed by the technology and experience of ImageIQ, Inc., a Cleveland Clinic Innovations company and Imaging Contract Research Organization (ICRO) that specializes in providing image management software, image analysis capabilities, and professional services for imaging in drug and device clinical trials and preclinical research.
Source
ImageIQ, Inc.
Related Links
http://www.ImageQuantify.com
http://www.ImageQuantify.com/bots/botdetail/7
http://www.ImageQuantify.com/UserContact
http://www.Image-IQ.com