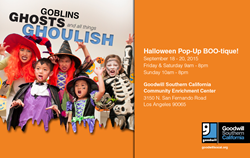 Los Angeles, CA (PRWEB) September 17, 2015
Goodwill Southern California (GSC) is offering a special shopping opportunity for Halloween lovers who want to get a jump on finding the perfect costume for Halloween. This weekend, Goodwill SoCal will host a Halloween Pop-Up BOO-tique for 3 days only at its Glassell Park Community Enrichment Center at Fletcher Square (3150 N. San Fernando Road, L.A. 90065). The Halloween Pop-Up Store will be open on Friday and Saturday (Sept. 18 & 19) from 9am - 8pm, and on Sunday (Sept. 20) from 10am – 8pm.
At the Goodwill SoCal Halloween Pop Up BOO-tique shoppers will find everything they need for the season, including thousands of deeply discounted Halloween costumes, make-up, party inspiration, home decorations and more. Items can be customized to create unique, one-of-a-kind costumes at not-so-scary prices.
Creative costume inspirations include Zombie Prom Queen, Reality TV Star, Gatsby Flapper, Lone Ranger, Comic-con Attendee, Totally 80's, Tacky Tourist, The Royal Baby, Flower Power 70's, Fortune teller, Static Cling, and I Was Framed! When shoppers create their own costume at Goodwill, they won't bump into look-a-likes dressed in packaged costumes. And with prices so good, shoppers can afford to buy a different costume for each party they plan to attend!
To celebrate the season, GSC has teamed up with Sony Pictures Animation for the release of the monster comedy, Hotel Transylvania 2, in theatres starting September 25. To get shoppers in the Halloween mood, on Friday, September 18, from 2pm to 7pm characters from the movie will visit the Goodwill SoCal Halloween Pop-Up Store to meet Halloween shoppers and pose for photos!
What: Goodwill SoCal Halloween Pop-Up BOO-tique
Why: Get an early start on Halloween!
When: Fri. Sept 18 & Sat. Sept. 19 9am – 8pm / Sun., Sept. 20 10am – 8pm
Where: Goodwill Southern California Community Enrichment Center
3150 N. San Fernando Road, Los Angeles, 90065
Note: "Hotel Transylvania 2" characters will visit on Fri. Sept. 18 from 2pm – 7pm
All Goodwill Southern California's 80 Retail Stores in Los Angeles, Riverside and San Bernardino Counties will feature Halloween BOO-tiques for the entire Halloween season, through October 31. Shoppers can visit http://www.goodwillsocal.org/shop/goodwill-locator to find the store nearest them.
Ghoulish, garish, or glamorous, Goodwill has got it all for Halloween!
Media interested in covering the BOO-tique should contact Marla Eby at meby@goodwillsocal.org or Sasha Itzikman at sitzikman@goodwillsocal.org
About Goodwill Southern California
Transforming lives through the power of work, Goodwill Southern California (GSC) serves people with disabilities or other vocational challenges, as well as businesses, by providing education, training, work experience and job placement services. Each year, GSC prepares and places thousands of individuals into sustainable employment through programs and services offered at three campuses, Career Resource Centers, WorkSource Centers, Deaf, Youth and Veteran Employment Programs throughout Los Angeles (north of Rosecrans Ave.), Riverside and San Bernardino counties. GSC supports its mission with proceeds generated from 80 retail stores and 44 attended donation centers. Charity Navigator, an independent charity evaluator has awarded GSC its highest four-star ranking for 13 consecutive years; largely due to the fact GSC spends 93 percent of its budget on programs and services. Committed to caring for the earth, in 2014 GSC diverted 100 million pounds of reusable or recyclable goods from landfills, Goodwill is Good For Everyone! For more information about Goodwill Southern California, please call (888) 4-GOODWILL or visit http://www.GoodwillSoCal.org.
###