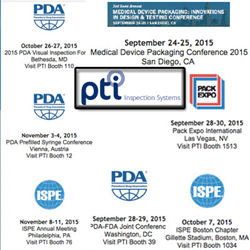 (PRWEB) September 24, 2015
PTI will be exhibiting at several events beginning in September through November in the U.S. and Europe. Learn about the latest developments and current best practices for container closure integrity testing and package inspection technologies for the pharmaceutical and medical device industries.
"This conference and exhibition schedule covers a lot of territory and we look forward to connecting with industry colleagues and customers. With the current changes underway regarding package integrity testing methods, attendees can learn the most up to date information about regulatory issues and compliance," states Oliver Stauffer, vice president of PTI. "Organizations such as the PDA and ISPE offer attendees exceptional educational and conference programs coupled with the chance to meet with exhibiting companies to learn about their technologies and equipment first hand. Please contact us if you need more information about PTI's deterministic quantitative test methods and how we can help support your quality goals."
Take note of the following dates and locations.
September 24-25, 2015 | San Diego, CA
3rd Semi-Annual Medical Device Packaging: Innovations In Design and Testing Conference
September 28-29, 2015
2015 PDA/FDA Joint Regulatory Conference
Renaissance Washington DC Hotel | Washington, DC
September 28-30, 2015
Pack-Expo | Las Vegas, Nevada
October 7th, 2015
ISPE Boston Chapter
Gillette Stadium Clubhouse | Foxborough, MA
October 26-27, 2015
2015 PDA Visual Inspection Forum
Bethesda North Marriott Hotel and Conference Center | Bethesda, MD
November 3-4, 2015
PDA Prefilled Syringe Conference
Vienna, Austria
November 8-11, 2015
ISPE Annual Meeting
Philadelphia Marriott Downtown | Philadelphia, PA
About PTI Inspection Systems
PTI Inspection Systems is the leading manufacturer of non-destructive package inspection technologies for the pharmaceutical, medical device, food and container industries. We offer inspection systems for package integrity testing, seal integrity, leak testing and container closure integrity testing (CCIT). Our technologies exclude subjectivity from package testing, and use test methods that conform to ASTM standards. PTI Inspection systems provide repeatable, reliable results and can be used at any point in the manufacturing process as they are non-destructive, non-invasive and require no sample preparation.