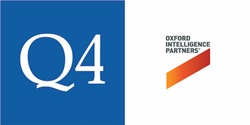 "We have been working with Oxford since the beginning of 2015, with many of our team members having significant history in working together with Oxford's leaders." said Darrell Heaps, CEO of Q4
Toronto and Chicago (PRWEB) September 17, 2015
Q4 Web Systems (Q4), the leading investor relations SaaS platform, has announced its acquisition of Oxford Intelligence Partners (Oxford), a provider of innovative stock surveillance, market intelligence and quantitative trading analytics to investor relations professionals and institutional investors. Oxford operations will be merged into Q4's Intelligence division.
Since Oxford introduced its quantitative trading analytics and predictive options intelligence in early 2015, the company has grown quickly, attracting many blue chip clients and establishing itself as the most innovative provider of stock surveillance and market intelligence solutions in the US. Merging these capabilities with the new Q4 Intelligence division and SaaS platform creates a new powerhouse in the investor relations and institutional investor markets.
"We have been working with Oxford since the beginning of 2015, with many of our team members having significant history in working together with Oxford's leaders. From the outset of our relationship, I have been impressed with what they have accomplished," said Darrell Heaps, CEO of Q4 "Combining the Q4 team with Oxford's analysts, proprietary datasets and data scientists will help bring the Q4 platform and solutions to an entirely new level. This is a transformational deal for Q4 and Oxford and we couldn't be more excited about the future."
Q4's acquisition of Oxford further accelerates its mission of becoming the world's leading SaaS provider of capital markets intelligence and advanced communication solutions for public companies and institutional investors. Q4 products slated for near-term launch include next generation stock surveillance, predictive trading analytics and soon to be released intelligent targeting and CRM applications.
Oxford's CEO Adam Frederick will join Q4 as SVP of Intelligence along with his team of best-in-class surveillance experts, quantitative data scientists and programmatic options traders. The entire Oxford team will join Q4 with the mandate of delivering the best stock surveillance in the market combined with predictive market intelligence and decision making tools for investor relations managers, the C-suite and institutional investors.
"The synergies between Oxford and Q4 cannot be understated. The innovative work that we have been doing at Oxford, including our quantitative trading analytics, options intelligence and intensive stock surveillance will be taken to the next level when combined with Q4's next generation SaaS platform and product development leadership," said Frederick. "Q4 has demonstrated its ability to execute and compete in the investor relations market and we are thrilled to be part of the acclaimed Q4 team."
About Q4 Web Systems
Q4 Web Systems (Q4) is a SaaS platform that provides communication and intelligence solutions to investor relations officers, the C-­suite of public companies and institutional investors. Over 500 global companies use Q4's suite of products to manage, analyze and improve their engagement with the capital markets.
http://www.q4websystems.com
About Oxford Intelligence Partners
Oxford Intelligence Partners (Oxford) provides innovative stock surveillance, market intelligence and quantitative trading analytics to investor relations professionals and institutional investors. By combining a unique team of highly acclaimed stock surveillance analysts with former options traders, floor specialists and PhD-accredited quantitative technologists, Oxford transforms capital markets information into intelligence. http://www.oxfordintel.com
Media Inquiries
Jay Roberts or Anita Buchanan
Roberts Buchanan Associates
212.924.2582 | 978.821.9877
jay(at)robertsbuchanan(dot)com | anita(at)robertsbuchanan(dot)com