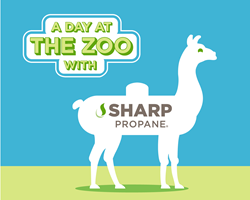 Austin, Texas (PRWEB) September 17, 2015
Sharp Propane and the Austin Zoo and Animal Sanctuary are proud to announce the first Sharp Propane Austin Zoo Day on Saturday, September 26, 2015, celebrating the longstanding relationship between Sharp Propane and the Austin Zoo. From 9:30 a.m. – 5:30 p.m., Sharp Propane will provide a $2 discount off zoo admission to anyone who mentions Sharp Propane at the admissions counter. The family-friendly event will also feature giveaways, fun activities, and a performance by Lucas Miller – the singing zoologist.
For years, Sharp Propane has provided propane to heat a number of animal enclosures at the Austin Zoo and Animal Sanctuary. When one thinks about propane, a zoo (let alone the animals that live there) isn't the first thing to come to mind. But for years the Austin Zoo has relied on Sharp Propane to power the zoo house that is home to the on-site vet clinic and the live-in zookeeper, and heat the reptiles in the medical building. The brown lemur building at the zoo also uses propane to power a wall heater that allows the lemurs to spend time indoors and keeps the tortoises warm in their indoor habitats when the temperature falls below 60 degrees.
"For over 15 years, we've worked closely with Sharp Propane to help keep a number of our animals happy and healthy," said Austin Zoo Director, Patti Clark. "We're celebrating this partnership this September, and are looking forward to letting people enjoy our animals and habitats with Sharp."
Sharp Propane serves thousands of residential and commercial clients in five different markets across Texas – Austin, Bastrop, Bryan / College Station, Fort Worth and La Grange. Sharp Propane has a number of other unique commercial clients, beyond the Austin Zoo, including the concessions department at Texas A&M's football stadium Kyle Field, the Capitol Area Food Bank, Jester King Brewery, and the Plant Odyssey greenhouse in Kyle. As a portable, green and readily accessible fuel, propane is an ideal power source for homes and businesses located outside the natural gas grid of major cities.
Additional information about Sharp Propane can be found on their website at http://www.sharppropane.com
###
About Sharp Propane
For more than 60 years, Sharp Propane has been supplying safe, energy-efficient propane and tanks to Texas. Sharp Propane is a leading service provider of residential and commercial propane systems providing customers an environmentally-friendly, safe, and reliable energy source for the way they live and work. The Propane Professionals at Sharp are focused on putting customers first and setting industry standards for safety and service. Founded in 1949 in Smithville, Texas, Sharp serves homes and businesses in five markets across Texas: Austin, Bastrop, Bryan, Fort Worth and La Grange.
About the Austin Zoo and Animal Sanctuary
The mission of Austin Zoo is to assist animals in need through rescue, rehabilitation and education. Located on the southwest edge of Austin off of Highway 290 West and Circle Drive, Austin Zoo is a pleasant Hill Country rescue zoo where visitors from around the world can come to learn about animals close-up, spend some time outdoors getting exercise and have fun. Austin Zoo began as a goat ranch. In 1990, the ranch became known as Good Day Ranch, taking in primarily goats, pigs, fallow deer, donkeys and ponies who needed a home. By the year 1994 the ranch had grown and included a number of exotic animals. To reflect all the changes, the Good Day Ranch officially became Austin Zoo. In 1999 the owners decided to donate the animals and the facilities into a 501(c)(3) nonprofit corporation – a project that was completed in 2000. Austin Zoo has been operated by a Board of Directors since that time.
LINKS & RESOURCES
http://www.sharppropane.com
http://www.austinzoo.org
http://www.facebook.com/events/152255158444418/