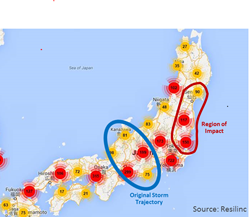 Milpitas, Calif. (PRWEB) September 16, 2015
Supply Chain Risk Management (SCRM) practitioners frequently segment disruption events into those that one knows are going to happen but not necessarily when (e.g. earthquakes), versus events that one doesn't know when or where an event will occur, such as the August 12, 2015, Tianjin explosions. Each event scenario requires a different mix of strategies and measures to mitigate the risk proactively or mitigate the impact reactively through crisis response preparedness.
"But, what if you knew when and where a major supply chain event is going to happen?" asks Bindiya Vakil, founder and CEO of Resilinc, a cloud supply chain intelligence and analytics technology company. "Would you be sufficiently motivated to start taking precautionary risk management measures today? Or, will the 'diving catch' mentality of saving the day when the moment arrives be the prevailing approach?"
A strong El Niño is coming. SCRM practitioners have a good sense of when and where its impact will be felt. Yet, the question remains whether or not CPOs will drive proactive risk assessment with enough time to identify suppliers in potential flood zones or potential raw materials that could be impacted by drought conditions. CPO resolve can then be further judged by their willingness to initiate and pursue various risk treatment options, such as re-locating inventory, qualifying alternate sources, or investing in contingent business interruption insurance.
"The recent flooding from Severe Tropical Storm Etau in Japan is the first significant manifestation of El Niño and it may serve as a wakeup call," said Vakil. "Even if you are not impacted by Etau, this is a test of your risk management and resiliency leadership culture. If you are blindsided by El Niño, you have no one but yourselves to blame."
An impact analysis brief published by Resilinc entitled "El Niño: A Test of CPO Leadership and Your Supply Chain Resiliency Culture," provides a basic primer on El Niño from a supply chain perspective and what to expect for the 2015-2016 season. It leverages the Etau experience to illustrate a potential scenario that could repeat itself. It warns that if Chief Procurement Officers (CPOs) have not prioritized supply chain risk management capabilities for their organization, the coming months will prove challenging for their organizations. For those who prepare, global supply chain disruption events are viewed not as threats but as opportunities to gain competitive advantage. The brief concludes with a checklist and action plan that CPOs can use to assess the state of their resiliency strategy leadership and SCRM culture.