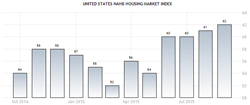 Home prices in the Midwest are relatively low compared to both the west and northeast and much less expensive than paying for rent
Chicago, IL (PRWEB) September 16, 2015
Lenders like The Federal Savings Bank were pleased to find out that builder confidence continued to rise for the second consecutive month in September.
In today's National Association of Home Builders report, the Home Builders/Wells Fargo Housing Market Index (HMI) increased to 62 in September.
The NAHB Chairman Tom Woods said that "single-family housing is making solid progress."
Regionally, "Looking at the three-month moving averages for regional HMI scores, the West and Midwest each rose one point to 64 and 59, respectively. The South posted a one-point gain to 64 and the Northeast dropped one point to 46." The Federal Savings Bank views the Midwest as the hidden gem of America's housing market. Home prices in the Midwest are relatively low compared to both the west and northeast and much less expensive than paying for rent.
As a reminder, the Housing Market Index was "Derived from a monthly survey that NAHB has been conducting for 30 years, the NAHB/Wells Fargo Housing Market Index gauges builder perceptions of current single-family home sales and sales expectations for the next six months as "good," "fair" or "poor." The survey also asks builders to rate traffic of prospective buyers as "high to very high," "average" or "low to very low." Scores for each component are then used to calculate a seasonally adjusted index where any number over 50 indicates that more builders view conditions as good than poor." The lowest the index has been is 8 with the highest reading at 78. Currently at 62, builder sentiment is at annual higher and up 8% year-to-date. The Federal Savings Bank thinks sentiment will continue to increase if there is a mortgage rate increase simply because housing demand is strong.
Contact The Federal Savings Bank, a veteran owned bank, to learn more about mortgages.