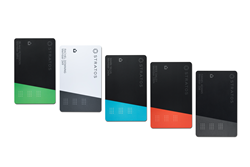 "We are excited to be one of the first banks to be working with Stratos this fall," said Dan O'Malley, Chief Digital Officer Eastern Bank of Eastern Bank.
Ann Arbor, MI (PRWEB) September 17, 2015
Stratos, Inc., creator of the Bluetooth Connected Card™ Platform, today announced Eastern Bank will be piloting Stratos's new partner program that includes bank issuer, merchant & loyalty issuer, promotional and distribution opportunities. The Stratos partner program can help banks, merchants and businesses acquire and retain customers by delivering Stratos Bluetooth Connected Cards to their user bases.
"We are excited to be one of the first banks to be working with Stratos this fall," said Dan O'Malley, Chief Digital Officer Eastern Bank of Eastern Bank. "Eastern Bank is the largest and oldest mutual bank in the country and we serve 400,000 customers in Massachusetts and New Hampshire. It is our heritage to stay on the cutting edge of financial tech solutions that focus on making banking easier and more secure. By piloting Stratos Bluetooth Connected Cards, we can ensure our customers are getting access to the most innovative payment technology on the market today."
Bank Issuers
The Stratos bank issuer program will set up a bank's credit and/or debit card as the "top of wallet" experience for its members using Stratos. Banks will receive card issuance and usage data as well as detailed insights on consumer behaviors aggregated using co-branded Stratos Cards.
Benefits to Issuers

Increase security through tokenization and encryption
Control "Virtual Top of Wallet"
Leverage payment-level data, including purchases made across entire wallet
Learn more about consumer, retailers and preferred payment methods
Build competitive brand differentiation and card loyalty
"The partner interest and activity we have seen since launching Stratos in March has been amazing," said Thiago Olson, co-founder and CEO of Stratos. "We have developed a significant pipeline of business that range from co-issuing to distribution deals. Working with like-minded partners such as Dan O'Malley at Eastern Bank will help drive the US mobile payment adoption in a secure, easy and reliable way."
Merchant & Loyalty
Retail merchants can also make their private label and loyalty cards always accessible with Stratos Cards. Using geo-sensitive mobile lock-screen notifications at the point of purchase, retailers can acquire new cardholders using Stratos digital card issuance and encourage card usage for all its current users. The Stratos Connected Card is the ideal solution for retailers who want to increase security and merchant card use.
Benefits to Merchants
Acquire new cardholders and increase loyalty with existing cardholders
Deliver real-time, in-store mobile promotions and marketing based on location and history
Increase frequency of use with current customers
Improve in-store purchasing experiences
Stratos also offers promotional and distribution programs for resellers, marketers and companies interested in purchasing Stratos Cards in bulk. For more information on Stratos' Partner program https://www.stratoscard.com/partners or email [email protected]
About Stratos
Stratos is the creator of the award-winning Stratos Bluetooth Connected Card™, which consolidates an unlimited number of credit, debit, loyalty, membership and gift cards into a single, smart, dynamic card that digitizes the wallet. With patented security features and acceptance at more places than any other mobile payment offering, Stratos streamlines the payment experience and empowers cardholders to make better payment decisions. Stratos also offers members free card upgrades, real-time location-based recommendations and financial insights to ensure a superior customer experience. Merchants and issuers partnering with Stratos are able to strengthen loyalty and engagement with better data and improved communications to their customers without infrastructure change. Stratos was founded by Thiago Olson, Chris Bartenstein and Henry Balanon and is based out of Ann Arbor, Michigan. The company is funded by Toba Capital Partners, Western Technology Investment, Resonant Venture Partners and Hyde Park Venture Partners. For more information, visit http://www.stratoscard.com.
Connect with us on Facebook, Instagram or Twitter.