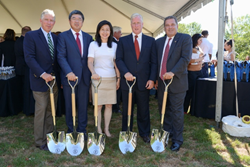 Yonkers, N.Y. (PRWEB) September 17, 2015
Joined by Mayor Mike Spano, City Council President Liam McLaughlin and city leaders, Strategic Capital and Collins Enterprises recently broke ground on an $85 million residential building along the Hudson River.
Called Hudson Park River Club, the new 230,000 square-foot building will include 213 studio and one-and-two bedroom rental units, along with amenities such as a health club, event space, a recreation area and parking for 160 vehicles. It's the third and final phase of the 16-acre Hudson Park development along the city's waterfront.
"This is precisely the type of development we need in Yonkers to meet a growing demand for people who want to live in a diverse and urban environment while enjoying our beautiful waterfront," said Mayor Mike Spano. "This new community complements the great work that has already been completed and will ensure that Yonkers remains a destination for years to come."
Planning for the Hudson Park community began in the 1990s, and in 2000 the Yonkers City Council designated Collins Enterprises to develop two parcels along the waterfront that were designated for New York State's Brownfield Clean-Up Program. The new building will be located adjacent to the city's esplanade overlooking the Hudson River and will complete access to the public waterfront, Paddling & Rowing Club, Beczak Environmental Center and Habirshaw Park. With this new building, Strategic Capital's total investment will exceed $250 million for the three buildings.
Construction of the previous building, Hudson Park North, included 294 apartments with 5,500 square feet of community space and a courtyard; it was completed in 2008. Hudson Park South, which opened in 2003, consists of 266 one-and-two bedroom rental apartments and 15,500 square-feet of professional office and retail space. The latest phase of Hudson Park is expected to be completed in mid-2017.
"In partnership with the City of Yonkers and Collins Enterprises, we will finish the last phase of Hudson Park and continue serving the Yonkers community with this wonderful space to live, work and play," said Ning Yuan, chairman and CEO of Strategic Capital. "We are enthusiastic about growing this partnership with Collins Enterprises over the long term, because it is never just about this one project, but also about our shared passion on building spaces for convenient and lively modern life style."
"As we begin the final stage of development, Hudson Park River Club exemplifies our commitment to the City of Yonkers," said Arthur Collins, president of Collins Enterprises. "We're grateful to the City and so pleased to have a new partner, Strategic Capital, to help us realize a vision that began long ago."
Hudson Park is located just blocks from the Yonkers Metro North Train Station, which is a 25 minute commute to Grand Central Station. It is also conveniently located near great shopping, restaurants and bars, museums, galleries and performing arts venues as well as a variety of recreation opportunities along the waterfront.
In recent years Yonkers has attracted many new companies, including world-renowned restaurateurs, entrepreneurs and technology and biotechnology companies in the immediate vicinity of Hudson Park looking for great space and an urban environment. The city, with the help of its GenerationYonkers marketing campaign, is also attracting millennials looking for quality and convenience in the New York metropolitan area.
To view floor plans or to see local amenities, log onto http://www.livehudsonpark.com.
About Strategic Capital:
Strategic Capital is the US-based investment platform of the world's largest construction and real estate conglomerate CSCEC. Formed by Mr. Ning Yuan, Chairman and President of China Construction America (CCA), Strategic Capital was created to invest in public infrastructure and private real estate opportunities by leveraging CSCEC's capital strength and CCA's experiences in North America. Headquartered in Jersey City, N.J., Strategic Capital pursues investment opportunities across the Americas in the fields of commercial, residential and mixed-used real estate as well as infrastructure. Equipped with the expertise to optimize asset acquisition, development and operation, we seek long-term, synergy-creating strategic partners who share our vision. Having completed a number of transactions in recent years, we aim to build a portfolio of $3 billion through acquisitions and development within three years. With unparalleled experiences in construction and development coupled with strong financial strength, we are able to respond quickly to changes in the market and create value for all stakeholders.
About Collins Enterprises:
Collins Enterprises is a third-generation, private real estate company based in Connecticut that owns and operates a $500 million portfolio of multifamily and commercial office buildings from Virginia to New York City. Collins Enterprises is nationally recognized for building unique redevelopment projects in strategic locations such as urban waterfronts, reemerging downtowns, and Brownfield sites.