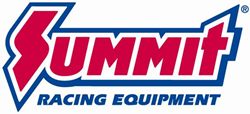 Tallmadge, OH (PRWEB) September 17, 2015
Rugged Ridge recently introduced many new parts for Jeep's JK Wrangler. Summit Racing now carries many of those new Rugged Ridge parts for Jeep owners wishing to upgrade their vehicles.
Hurricane Flat Fender Flare Kits for Jeep Wrangler JK
Putting larger tires on a stock JK used to mean surgery on the fenderwells. Rugged Ridge's Hurricane Flat Fender Flare Kits allow the use of 35 inch tires on a factory JK with no other changes. The flares are one inch wider than stock and provide an additional two inches of clearance. The flat fender design reduces the issues of front tires hitting the flares while turning.
The flares are injection-molded from tough TPE polymer and are UV protected to prevent cracking and discoloration. The flares feature a unique sculpted design and double bolt pockets for a rugged off-road appearance. Stainless steel hardware included.
Spartacus Performance Series Winches
Don't get stuck on the trail—get a Rugged Ridge Spartacus Performance Series Winch. They feature a durable series-wound motor and a three-stage planetary gearbox for long life and extra pulling power. The included all-weather remote solenoid box has a handheld remote switch and can be mounted in multiple positions and angles to accommodate most winch bumpers.
Jeep owners have a choice of three pull ratings:

8,500 Lb.—172.8:1 gear ratio, 5.5 horsepower motor
10.500 Lb.—218:1 gear ratio, 6.6 horsepower motor
12,500 Lb.—265:1 gear ratio, 6.6 horsepower motor
Other features include an automatic load-holding brake system, aluminum hawse fairlead, 7/16 inch synthetic rope, and a latched hook. The winches are covered by a five year limited warranty.
Performance Vented Hood
A JK's engine compartment can get pretty hot, especially when climbing obstacles or moving slowly along a trail where there is little airflow movement. This Performance Vented Hood provides 50% more venting surface than similar designs to help keep the engine running cooler. The stamped steel hood has a factory-style inner core and fits like the OEM hood. The vents are removable to make it easier to paint, and most aftermarket accessories simply bolt into place. The hood comes EDP coated and ready to paint.
Summit Racing Equipment
http://www.SummitRacing.com
1-800-230-3030