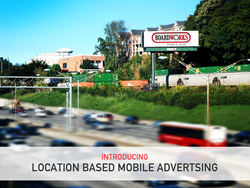 With Boardworks Mobile Sync we will be able to deliver up to tens of millions of daily impressions across the most recognized Apps in the country
Atlanta, GA (PRWEB) September 22, 2015
Boardworks Outdoor Advertising announced the launching of its Location Based Mobile Advertising platform, Mobile Sync, designed to deliver tens of millions of impressions to mobile devices using state-of-the art Geo Fencing and Geo Retargeting in Georgia.
"Our goal at Boardworks is to continually seek out new and emerging technologies that will extend the reach of our OOH platform in order to provide the best advertising vehicles for our customers," says Larry Roberts, Owner and Founder of Boardworks Outdoor Advertising. "With Boardworks Mobile Sync we will be able to deliver up to tens of millions of daily impressions across the most recognized Apps in the country.
"Ads are delivered with pinpoint accuracy and target consumers by real-time user location (GPS) and location history. And most importantly, with real time reporting, advertisers can measure their ROI," said Roberts.
Roberts, who founded Boardworks Outdoor Advertising in 1989, growing it into one of Atlanta's largest independent billboard company, with some of the most iconic billboards in Atlanta, says, "Our plan is to bridge the gap between traditional out-of-home advertising and mobile advertising by syncing billboard ads with mobile ads. We owe it to our customers to continually introduce proven technologies that can deliver the best advertising value, and that's why we are introducing Boardworks Mobile Sync."
About Boardworks Outdoor Advertising
Boardworks Outdoor Advertising Company, Inc started in Wauchula, FL in 1989. Since then, they have been providing both national and local advertisers in Atlanta with unique and innovative Outdoor Advertising displays. Their locations are highlighted by a 3,000 square foot marquee overlooking Centennial Park, several spectaculars and a digital network powered by state of art displays with incredible demographic and traffic data profiles.
Learn more at http://www.Boardworks.com
Media Contact:
Steve Crayne, Marketing Director, Boardworks Outdoor Advertising
SCrayne(at)Boardworks(dot)com or (770) 853-0318