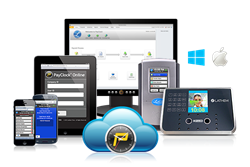 "We do payroll from home, but the main thing we like is that there is no local software to install or maintain," said Ira Lichtenstein of Richardson Seating Corp.
Atlanta, GA (PRWEB) September 18, 2015
Richardson Seating Corp. of Chicago has modernized its time and attendance system – and its factory -- moving from paper time cards to Lathem's cloud-based time and attendance system, PayClock Online, saving time and creating efficiencies.
Prior to using PayClock Online, the company used a punch clock and time cards, which were messy and inefficient. Before that, they used a system that required desktop software, but they couldn't get the software to work. With Lathem's PayClock Online, there is no software to install or network servers to maintain. Data is secure and protected in off-site locations.
"We do payroll from home, but the main thing we like is that there is no local software to install or maintain," said Ira Lichtenstein co-owner of the company that has 50 factory employees and makes logo bar stools, restaurant bar stools, and other furniture.
PayClock Online is a web based Software as a Service (SaaS) time and attendance system that is hosted and maintained by Lathem. Customers subscribe to the service and can access the application anywhere, on any web enabled device via the Internet. Employees have the option to punch-in and out on Lathem time clocks that connect to PayClock Online through an Ethernet Local Area Network (LAN).
The Richardson Seating Corp factory wasn't set up with an Ethernet network; and Lichtenstein only had Internet access in his office. Setting up an Ethernet network turned out to be an easy fix. He bought wiring and routers and installed them in the factory himself, with the help of Lathem's PayClock Online tech support team, who walked him through the setup.
"I don't have computers in the factory; we're not electronically inclined at all. Even people not experienced with IT can figure out how to run wires, set up a router and connect the PayClock Online system," he said. "It's that easy!"
He also purchased two Lathem model PC600 employee time clocks that use proximity badges and integrate through his new network with PayClock Online. One benefit of the PC600 time clock is it lets supervisors and employees manage time and attendance directly on the time clock. Supervisors can add employees, edit punches and send messages to individuals for fast and effective workforce management, according to Lathem.
While using web-based time and attendance allowed him to modernize his timekeeping system, he also liked a feature of the model PC600 clocks: setting up a greeting in Spanish when workers clock in.
"Most of our employees are Spanish-speaking and multi-generational," he said. "As a family-owned business, we thought that was a nice touch."
Founded in 1975, Richardson Seating's history and product line go back to 1950 when Ira Lichtenstein's grandfather, Harry Richardson, started a furniture manufacturing company. Richardson recruited his brother, Rueben, and his son-in-law; Earl (Lichtenstein's father) to form his family's first bar stool and chair manufacturing company.
Earl ran Richardson for nearly 30 years before retiring and turning over the company to his two sons, Ira and Scott. The two now continue to build commercial-quality bar stools and chairs, including logo bar stools for major sports teams, the music and entertainment industry (including the Grateful Dead) and major retailers like Home Depot and NAPA Auto Parts stores.
"There's not a lot of logo bar stool guys out there," Lichtenstein said. "Chances are if you see one, it's made by us."
About PayClock Online
PayClock Online is a cloud-based solution that enables businesses to manage employee time and attendance anytime, anywhere with an Internet connection. This web-based employee timekeeping system allows managers to quickly process payroll on their own time, when it is most convenient for them. Mobile functionality lets managers track employees' hours or administer payroll from their own mobile devices. It's easy to set up office-based or remote employees to clock in and out from their computers, mobile devices, and even Lathem time clocks, enabling them to view their own time records and paid time off information on the web without supervisor assistance. PayClock Online easily integrates with popular payroll software systems like QuickBooks, Paychex, ADP and more.
About Lathem
Headquartered in Atlanta, Georgia,Lathem is the leading provider of durable and affordable timekeeping products for business. Since 1919, Lathem remains a family-owned and operated US manufacturer. More than 1 million organizations worldwide use a Lathem solution every day to help manage their business, including commercial wall clocks, time stamps, mechanical and biometric employee time clocks, and Lathem's PayClock Online time & attendance system.