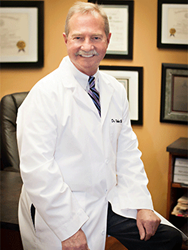 Racine, WI (PRWEB) September 16, 2015
In keeping with the spirit of Self-Improvement Month during September, Dr. Robert Becker is encouraging patients with missing teeth to improve their appearance and oral health, by receiving dental implants in Racine, WI. Dr. Becker offers single implants to replace individual teeth or All-on-4™ implants to replace a full arch. Both options provide patients with low-maintenance solutions and long-term health benefits.
Dental implants, which are placed in the jawbone to simulate natural teeth, offer a uniquely healthy and secure tooth replacement option. Due to their placement, implants cannot shift out of place or damage adjacent, natural teeth. This stability provides Dr. Becker's patients the opportunity to consume full and varied healthy diets, while also retaining the ability to speak naturally after they receive dental implants in Racine, WI. Another long-term benefit of dental implants proves to be the stabilization of jawbone density levels. The bone density deterioration that normally follows tooth loss, may affect the precise fit of appliances, such as dentures, causing those affected to appear older with an altered facial structure. Dental implants stimulate the jawbone, therefore stabilizing bone density levels.
The dental implant placement procedure consists of several stages. In the first stage, Dr. Becker secures the titanium implant studs in the jawbone. Over the next several months, the studs undergo a process called osseointegration, fusing into the bone structure. Once osseointegration is complete, the studs are permanently secure, eliminating the need for future adjustments or replacements. The next stage consists of Dr. Becker attaching posts and crowns to the implants. These appliances, which are customized to the natural teeth of each individual patient, are fully functional from the time of placement.
Those with some degree of bone loss may be better candidates for All-on-4™ dental implants. All-on-4™ uses just four implants which are placed in areas with the most bone volume, and a prosthesis is added on top to create a full set of natural looking teeth. Most patients who have undergone an All-on-4™ procedure experience fast healing times and a new smile in just one visit.
Dr. Becker invites patients to use Self-Improvement Month as an opportunity to take the next step toward improving their oral health and their smiles. Patients who wish to schedule consultations about dental implants in Racine, WI, are encouraged to call Dr. Becker's office or visit his website, http://www.teethin24hrs.com.
About the Practice
Dr. Robert Becker is a periodontist offering personalized dental care for patients in Racine and Burlington, WI. Dr. Becker is the founder of Lakeview Periodontal Associates and has been practicing dental medicine for over 30 years. Dr. Becker received his graduate and post-graduate degrees from Marquette School of Dentistry and his continued education in periodontics at Northwestern University Dental School. He has also studied Implantology at the prestigious Branemark Institute in Sweden, and is proud to have placed over 8,000 dental implants during his career. Dr. Becker is also a recipient of A Diamond Award, a prestigious recognition for being a Premier Nobel Biocare Provider. To learn more about Dr. Becker and the dental services he provides, please visit his website at http://www.teethin24hrs.com or call (262) 510-0414 for the Racine office or (262) 510-0381 to reach the Burlington office.