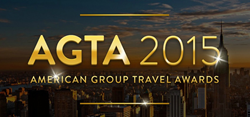 New York, NY (PRWEB) September 17, 2015
The American Group Travel Awards (AGTA) is in full swing for 2015!
The annual event celebrates leading organizations and individuals in the North American travel sector that have provided group travelers with exceptional experiences.
This exciting event will be held the night of November 9, 2015 at the Diamond Horseshoe Theatre in the Paramount Hotel in New York City. The awards will be hosted by Dylan Ratigan, former MSNBC talk show host, CNBC Television News Journalist, and independent film producer. Nominees for all 20 award categories have been selected by a panel of industry experts.
This year's 2015 AGTA is setting a record for sponsors. The list of sponsors for this year's event are:

Hilton Worldwide
InterContinental Hotels Group
Best Western International
Wyndham Hotel Group
Choice Hotels International
Expedia
Hotels.com
Kolter Hospitality
Cornell University
Meetings.com
Group Travel Organiser
Travel Mole
ReviewPro
Premiere Travel Media
Cleverdis
Moet & Chandon
Super Shuttle
BusBank
Las Vegas
For more information about the event and sponsorship opportunities still available, please contact Bruce Rosenberg at 818-661-0244 or via email at Bruce.Rosenberg@americangrouptravelawards.com.