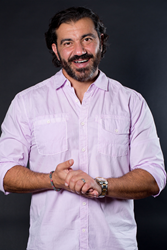 ...the best results come to clients who receive a great experience in addition to amazing workouts and nutritional guidance.
Irvine, Calif. (PRWEB) September 20, 2015
Bedros Keuilian, creator of PTPower and founder of the popular fitness boot camp franchise Fit Body Boot Camp, now offers a new coaching program for online info products. The program, Bedros Live, features his long time friend and business partner Craig Ballantyne, author of Turbulence Training,24/7 Fat Loss, and Home Workout Revolution. Together, they will lead a one-day "mastermind" class on November 5 in Irvine, Calif.
Bedros Live follows a format similar to his previous fitness industry education programs (including 7 Figure Mastermind) with discussions and workshops on launching products, improving sales copy, and creating marketing funnels. Like those programs, Bedros Live only offers a limited number of seats, so those interested must go through an application process to have a chance to attend. However, Bedros Live does come at a lower cost than those programs.
"As you already know," said Keuilian, "the best results come to clients who receive a great experience in addition to amazing workouts and nutritional guidance. That's why we're bringing in world-class experts in fat loss workouts and nutrition, so they can share with you the best strategies for delivering results to your clients."
The program covers three main topics: product launches, sales copy, and marketing funnels.
Keuilian and Ballantyne's approach to product launches comes down to four steps. The first step is training attendees on how to recruit affiliates. The second, helping them craft five promotional emails. The third, a discussion on affiliate prizes, and the fourth, a guide on keeping affiliates motivated.
The program will also include a "copy logic" session, in which Keuilian and Ballantyne will workshop each attendee's sales copy in front of the entire group. The idea behind this exercise is to give each attendee a chance to view their copy objectively and address its strengths and weaknesses.
Finally, Keuilian and Ballantyne will tailor a marketing funnel and an up-sell flow to each attendee's unique product. This process will focus on increasing the attendee's take rate, revenue, and profits.
Given the popularity of their previous programs, Keuilian and Ballantyne anticipate a many more applications as the deadline draws nearer. Therefore, they are encouraging interested professionals to apply as soon as possible. Only eight or ten of the applications will be accepted.
For more information on this program, please visit the website for Bedros Live:
http://www.bedroslive.com/
About PTPower
To find out more about Bedros Keuilian, his company PTPower.com and the fitness boot camp franchise, Fit Body Boot Camp, contact Bedros Keuilian at (800) 261-0208. Alternatively, you may use the contact form at http://ptpower.com/contact-me/ or send an email to Bedros Keuilian at support@keuilian.com.