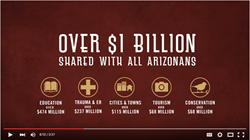 Many Arizonans may be surprised to learn that Tribal Gaming in Arizona has generated over a billion dollars for education, health care, public safety and tourism for Arizona communities
PHOENIX, AZ (PRWEB) September 22, 2015
On Monday, September 14th, the Arizona Indian Gaming Association released a new thirty second television spot highlighting the many benefits of Tribal Gaming in Arizona, including the creation of over 15,000 jobs and more than one billion dollars in shared revenues.
The new television commercial is part of an integrated, multi-media campaign that highlights the incredible outcomes that Tribal Gaming has brought to Tribes, surrounding communities, and the entire State of Arizona. Radio commercials, billboards, online communication, and newspaper ads have been running since April of this year.
The new commercial provides viewers with a new perspective about the benefits that casinos bring not just to Tribes, but Arizonans statewide. Such benefits include the creation of over 15,000 direct jobs, of which approximately 60% go to non-Tribal members. These benefits are in addition to the economic lifeline that gaming has been for Tribes.
"Without Tribal Gaming on Reservations, Tribes would still be living in Third World conditions. We've moved forward in every aspect of our communities," said Thomas Beauty, Chairman of the Yavapai Apache Nation. "We're able to do things that impact our people, their livelihoods, their families, just as people in surrounding communities do, and it is no small achievement."
The campaign also highlights the many benefits that Tribal Gaming provides for all Arizonans statewide through its revenue sharing agreement with the state.
"Many Arizonans may be surprised to learn that Tribal Gaming in Arizona has generated over a billion dollars for education, health care, public safety and tourism for Arizona communities," said Valerie Spicer, the Executive Director of the Arizona Indian Gaming Association. "This benefit for the state and local governments was made possible more than 10 years ago through voter approved Proposition 202, which created compacts between the state and the tribes to dedicate a portion of gaming revenues, via the Arizona Benefits Fund."
Since the start of the Tribal Gaming compacts, Arizona school districts have received more than $486 million from the Fund, which supports early reading, drop out prevention, and instructional improvement programs. Hospitals and health care systems have received more than $244 million for trauma and emergency services statewide. More than $70 million has gone to the Arizona Wildlife and Conservation Fund, which restores and protects natural habitats for wildlife and endangered species. An additional $70 million supports the Arizona Department of Tourism, which markets our State to attract visitors from around the country and, indeed, the world. In turn, tourism, as an industry, is responsible for generating thousands of jobs, billions of dollars in earnings, and millions of dollars in tax revenues.
About Benefiting Arizona
Benefiting Arizona is a grass roots organization of individuals, businesses, Tribes, not-for-profit, and for-profit organizations who recognize the many benefits experienced by the people of Arizona as a result of the current Tribal-State gaming compacts. This government-to-government partnership provides opportunity for Tribes and all Arizonans. For more information, visit http://www.BenefitingArizona.org.
About Arizona Indian Gaming Association
AIGA has a membership of 18 tribes representing more than 90% of the Indian people living on reservations in Arizona. AIGA was established November 21, 1994 by Arizona tribal leaders. The Association is committed to advancing the lives of Indian peoples – economically, socially and politically – so that Indian tribes in Arizona can achieve their goal of self-reliance. Current membership includes: Ak-Chin Indian Community, Cocopah Tribe, Colorado River Indian Tribes, Fort McDowell Yavapai Nation, Fort Mojave Indian Tribe, Fort Yuma- Quechan Tribe, Gila River Indian Community, Havasupai Tribe, Hualapai Tribe, Kaibab-Paiute Tribe, Navajo Nation, Pascua Yaqui Tribe, Salt River Pima-Maricopa Indian Community, San Carlos Apache Tribe, Tohono O'odham Nation, White Mountain Apache Tribe, Yavapai Apache Nation and the Pueblo of Zuni. For information about AIGA visit http://www.azindiangaming.org.