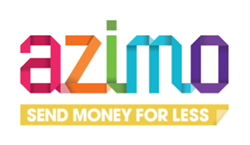 "We're now able to offer pre-paid airtime at a time when people are more likely to have a mobile phone than a bank account."
LONDON and SAN FRANCISCO (PRWEB UK) 17 September 2015
Azimo, the digital money transfer service, today announced the launch of its mobile airtime service. Through a strategic partnership with TransferTo, a leading provider of international airtime remittance, the new service will enable Azimo's customers to instantly send airtime to pre-paid mobile phones in over 100 countries: an addressable market of over 4.5 billion people.
According to Juniper Research, over $1 billion USD is estimated to be sent annually via airtime top-up.* With mobile penetration set to match the global population by 2020, the appetite for cross-border mobile services is growing, particularly in developing nations. By integrating TransferTo's global hub, Azimo customers now have the ability to send airtime top-ups using just the recipient's phone number. Details of the mobile carrier are detected in real-time with all transactions stored on the Azimo platform allowing repeat transactions to be made in seconds.
"It's all about giving our customers the widest possible choice in supporting their loved ones wherever they are. Today, we deliver to over 200,000 cash payout locations and to any bank account or mobile wallet globally. With TransferTo's network of global mobile operators, we're now able to offer pre-paid airtime at a time when people are more likely to have a mobile phone than a bank account," said Michael Kent, CEO, Azimo.
Through this partnership, Azimo will have the ability to take advantage of the rest of TransferTo's portfolio of products including its Mobile Money and Mobile Goods and Services Remittance hubs in the future.
Transferto's CEO, Eric Barbier, added: "We are thrilled to be in a position to provide more remittance options to Azimo's customers; mobile phones are essential to people's lives and, increasingly now, to how they manage their finances."
-Ends-
About TransferTo
TransferTo helps businesses offer mobile money, goods and services, and airtime top-ups around the world in real time. Our Global Mobile Remittance Hub provides an essential combination of services and technology to mobile telecommunication companies and financial institutions including MTN, Singtel, Orange, PayPal, and Xoom.
Thousands of companies in over 100 countries depend on TransferTo to provide mobile financial transactions for their customers without the need for a bank account. TransferTo's clients are companies whose consumer base consists largely of people connecting with family and friends back home.
Founded in 2005, TransferTo currently links +4.5B mobile users across more than 400 mobile operators. Its investors include Ingenico. More at http://www.transfer-to.com
About Azimo
Azimo is a London-based digital money transfer service, changing the way people send money around the world. Honest, transparent and social, Azimo is the cheapest and easiest way to send money to 195 countries across the world, from any internet connected device. For more information, visit http://www.azimo.com
Facebook: http://www.facebook.com/azimomoney
Twitter: @azimo
-------------------------------
*Juniper Research: Mobile Money Transfer & Remittances: Domestic & International Markets 2015-2020
http://www.juniperresearch.com/researchstore/commerce-money/money-transfer-remittances/domestic-international-markets