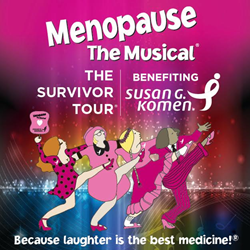 Laughter truly is the best medicine!
Fort Lauderdale, Fla. (PRWEB) September 22, 2015
GFour Productions, winner of 44 Tony Awards and 54 Drama Desk Awards, has proudly joined forces with Susan G. Komen® to launch Menopause The Musical®: The Survivor Tour® benefiting Susan G. Komen® in the fall of 2015. The show that has brought joy to millions of women is turning laughter into the best medicine. With a cast of breast cancer survivors and co-survivors, Menopause The Musical and Komen partner to offer inspiration, sisterhood and hope. During the month of October, designated as National Breast Cancer Awareness Month, The Survivor Tour® will come to 14 cities across the country and will donate no less than $2 per ticket sold to Komen to further its mission to save lives and end breast cancer.
The tour will also be on the road during World Menopause Day on Sunday, October 18 with a performance in Hartford, Ct.
The Survivor Tour® is proud to fundraise for Komen, which since 1982 has invested more than $2.6 billion in research, screening, treatment, education and support programs for people affected by breast cancer.
"Menopause The Musical has lifted the spirits of more than 11 million people worldwide, and we are thrilled to be part of this extraordinary mission with GFour and a cast that represents the more than 3.1 million breast cancer survivors in the U.S.," said Komen President and CEO Judy Salerno, M.D., M.S. "Their support makes a difference in the lives of women and men, and helps us move closer to our vision of a world without breast cancer."
The Survivor Tour® October dates include:

Charlotte, N.C. – October 1-3, Blumenthal Performing Arts Center McGlohon Theater at Spirit Square
Columbia, S.C. – October 4, The Township Auditorium
Greensboro, N.C. – October 6-7, Carolina Theatre
Pembroke, N.C. – October 9, The Paul R. Givens Performing Arts Center
North Charleston, S.C. – October 10, North Charleston Performing Arts Center
Warren, Ohio – October 13, WD Packard Music Hall
Greensburg, Pa. – October 14, Palace Theatre
Hartford, Ct. – October 16-18, The Bushnell
Burlington, Vt. – October 20, Flynn Center
Plymouth, Mass. – October 22, Plymouth Memorial Hall
Lexington, Mass. – October 23-25, Cary Hall
Rutland, Vt. – October 28-29, Paramount Theatre
Schnectady, N.Y. – October 30, Proctor's Theatre
Woonsocket, R.I. – October 31-November 1, Stadium Theatre Performing Arts Centre
For more than a decade, Menopause The Musical has worked to inspire and support women dealing with life after "The Change." "Menopause has always been a cause-based show," said Menopause The Musical Director Seth Greenleaf. "The cause was helping women see that what they are experiencing is perfectly normal, and that they are not alone. The Susan G. Komen® partnership increases the importance of our purpose because now we're not just talking about life affirming, but life saving. We're deeply proud to be a part of this effort."
The Survivor Tour cast includes breast cancer co-survivor Linda Boston (Professional Woman) and survivors Teri Adams (Iowa Housewife), Judy Blue (Soap Star), and Megan Cavanagh (Earth Mother) known for her role as Marla Hooch in the 1992 film A League of Their Own. For more information on the cast and tour, visit https://www.youtube.com/watch?v=ygJ5NCiqK20&feature=youtu.be.
Menopause The Musical is set in a department store where four women at a lingerie sale have nothing in common but a black lace bra AND memory loss, hot flashes, night sweats, not enough sex, too much sex and more! Singing along to classic tunes from the '60s, '70s and '80s, the cast forms a sisterhood with the entire audience. Whether naturally occurring or being thrust into menopause as a result of cancer treatment, Menopause The Musical helps women embrace and celebrate that menopause is no longer "The Silent Passage." For more information on the tour, please visit TheSurvivorTour.com.
"GFour Productions is happy to partner with Susan G. Komen® to raise important awareness, while proving that laughter truly is the best medicine," said producer Kathi Glist.
Menopause The Musical is recognized as the longest-running scripted musical production in Las Vegas and continues to entertain nightly at Harrah's. The hilarious musical has entertained audiences across the globe in more than 450 U.S. cities, nearly 300 international cities, and a total of 15 countries. For more information, visit http://www.MenopauseTheMusical.com.
# # #
About GFour Productions
GFour Productions (Producer) GFour Productions recent successes include winning the 2013 Tony Award® for their 50th anniversary production of Edward Albee's WHO'S AFRAID OF VIRGINIA WOOLF; Co-financing the 5 time Tony Award®, 5 time Drama Desk Award®, and 7 time Olivier Award® Winner for Best Musical, MATILDA THE MUSICAL; Producing the critically acclaimed revivals of THE GLASS MENAGERIE starring Cherry Jones and Zachary Quinto, and the history making production of LADY DAY AT EMERSON'S BAR AND GRILL starring 6 time Tony Award® winner, Audra McDonald; and the Pulitzer Prize winning play, DISGRACED, which The New York Times called, "Terrific, turbulent, and roaring to life with currents of dramatic electricity!" GFour recently premièred the Spanish-language version of their hit, MENOPAUSIA EL MUSICAL, in Hollywood, CA, and have now begun the international launch of their ever popular MENOPAUSE brand, bringing laughter to audiences around the world. They began producing in 1981 with NINE, winning the Tony Award® that year for Best Musical. Among their favorite Broadway productions are MY ONE AND ONLY starring Tommy Tune, ZORBA THE GREEK starring Anthony Quinn, THE RINK starring Liza Minnelli, BABY, GRAND HOTEL, GRIND, BIG, TRUE WEST, the original and the revival of LA CAGE AUX FOLLES which won them Tony Awards for Best Musical in 1983 and Best Revival in 2004. Their combined shows have been nominated for 115 Tony Awards®, winning 44 and 110 Drama Desk Awards®, winning 56. For more information, please visit GFourProductions.com
About Susan G. Komen®
Susan G. Komen is the world's largest breast cancer organization, funding more breast cancer research than any other nonprofit while providing real-time help to those facing the disease. Since its founding in 1982, Komen has funded more than $847 million in research and provided $1.8 billion in funding to screening, education, treatment and psychosocial support programs serving millions of people in more than 30 countries worldwide. Komen was founded by Nancy G. Brinker, who promised her sister, Susan G. Komen, that she would end the disease that claimed Suzy's life. Visit komen.org or call 1-877 GO KOMEN. Connect with us on social at ww5.komen.org/social.