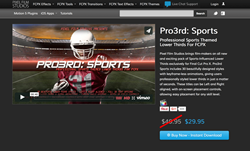 These lower thirds are great to get that TV feel to any video.
Aliso Viejo, CA (PRWEB) September 16, 2015
Pixel Film Studios brings film-makers an all new pack of sports Influenced lower thirds exclusively for Final Cut Pro X. Pro3rd Sports includes 30 designed styles with keyframe-less animations, giving users professionally styled lower thirds in just a matter of seconds. These titles can be Left and Right aligned, with on-screen placement controls, allowing easy placement for any skill level.
Pro3rd Sports Includes 30 different beautifully styled lower third presets for FCPX users to customize. These thirty different presets come with left or right aligned options, allowing users to easily place and modify their lower thirds in just a matter of seconds.
Pro3rd Sports comes with easy-to-use On-screen controls to help users with easy placement, rotation, and scaling of each lower third. Flares are also placed with on-screen handles, saving users time and allowing unlimited freedom in enhancing each lower third preset. Keyframe-less animations allow users to move their text in and out with just a simple selection of over 30 movements.
Pro3rd: Sports comes with fully editable 3D text for users to modify and customize, with amazing professional looks and styles. FCPX users can adjust the text tracking, text slant, angles, depth, and more with intuitive controls at the users fingertips. 3D Sports styled lower thirds are just a few clicks away.
Pro3rd: Sports was designed as a title pack specially for Final Cut Pro X. FCPX users can simply apply these titles, and stretch them out to the appropriate duration. Animation adjustments allow users to time the animations to the correct rate, without the hassle of keyframing. Numerous controls allow creative freedom, and these titles can easily work with any font.
Established in 2006, Aliso Viejo, California-based Pixel Film Studios is an innovative developer of visual effects tools for the post-production and broadcast community. Their products are integrated with popular non-linear editing and compositing products from Apple FCPX. Apple, the Apple logo, Mac OS X, and Macintosh are registered trademarks of Apple Inc. in the U.S. and/or other countries. All other trademarks and trade names are the property of their respective owners.