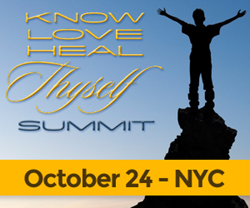 The transformational Summit will leave you more assured, aware, confident, passionate, hopeful, and energized – you'll unlock your true potential, uncover internal roadblocks, stop sabotaging your own success, and begin living the life you dreamed.
New York, NY (PRWEB) September 17, 2015
Physician and alternative medicine advocate, Dr. Veronica Anderson, announces the "Know, Love, Heal Thyself' Summit, a one-day event that uncovers the root cause of unhappiness and jump starts life goals, whether it is finding a new love, making new income, balancing personal and professional life, losing weight, or achieving true inner joy. The Summit, Oct. 24th at the Warwick New York, 65 W. 54th St., New York, will be kicked off by a cocktail reception, October 23rd for VIP ticket holders.
Dr. Anderson, physician and medical intuitive, has established national prominence as the voice of positive reasoning in the health community. Joining her at the Summit are four other notable presenters, who will offer training, stimulating dialogue, and professional networking with attendees. The full line of presenters includes:
Dr. Veronica Anderson – An expert on medicine, healthy living, and holistic alternatives, Dr. Anderson is a lively and provocative speaker who pulls no punches. She has appeared on national talk shows such as "Our World" with Neil Cavuto and the syndicated "Live" with Adam Carolla. She also appeared on "Meet the Experts" with renowned book publicist, Arielle Ford, and as a medical commentator on CNN with Nancy Grace. She was the host of radio's "Wellness for the REAL World," a spirited and challenging one-hour interview program on personal wellness in mind, body and spirit. A recognized author of two best-selling books, designer of the Secrets of Mind-Body Mastery program, and a 3rd Degree Black Belt and member of the American Tae Kwon Do Association, Dr. Veronica will discuss the blending of medical science with spirituality and a holistic wellness approach that has achieved outstanding results for her program clients.
Felicia Bender – Known as The Practical Numerologist, Felicia Bender, Ph.D. is the author of Redesign Your Life: Using Numerology to Create the Wildly Optimal You. Her experience in theater contributes to her humorous and engaging presentation style. She has collected over 30,000 views as a contributor to The Elephant Journal dialogue on depression.
Wendy Darling – Wendy is a recognized relationship and transformational change expert, the founder of the Miraculous Loving Institute, and the creator of the Miraculous Loving Method™. With over 30 years of experience, Wendy is a master healer and coach, providing the process, systems, and strategies for her clients to get the results they most desire. She is a #1 Amazon best-selling author of The Miracle That Is Your Life.
Sam Liebowitz – Mr. Liebowitz, director of the Double Diamond Wellness Center in Manhattan's Upper West Side, provides a comprehensive and holistic approach to enable his clients to heal and manage pain on physical, spiritual, and emotional levels simultaneously. Sam is the host of a weekly radio talk show, the "Conscious Consultant Hour."
Jayne Sanders – The founder of Scientific Hand Analysis, Ms. Sanders brings 25 years of experience in corporate marketing to her new role helping others learn her proprietary Purpose and Freedom Coaching process. Her own unfulfilled past fuels her newfound joy and inspiration guiding others as they discover unknown talents and blind spots that reveal true meaning within their lives.
"Conferences of this nature typically deal with tired self-help topics such as improving work status, increasing income, and developing relationships," stated Dr. Anderson, founder and host of the Summit. "Our focus extends beyond that to uncover the root causes of unhappiness and frustration. Many outwardly successful people never achieve true inner joy in their lives. They feel trapped and powerless. We will empower attendees to dig deep to discover the joy within, bring it to the surface, and rekindle their sense of adventure, purpose, and confidence that anything is possible."
Based on the prominence of the speakers, it is expected that the demand for tickets will greatly exceed available seating. Organizers recommend that attendees secure their ticket early. Early Bird, General Admission Pricing is $347 if purchased by September 30. Tickets are available now at Thyself Summit.
About "Know, Love, Heal Thyself" Summit
Dr. Veronica Anderson brings together a group of nationally recognized health experts for a one-day event on October 24, 2015 at The Warwick New York Hotel, where attendees will become empowered to tackle any obstacle in life. The transformational Summit is about being more assured, aware, confident, passionate, hopeful, and energized - attendees will unlock their true potential, uncover internal roadblocks, stop sabotaging their own success, discover secret wealth, and begin living the life of their dreams. Tickets are available now at Thyself Summit.
For More Information, Contact
Ana Tackett, Publicist
Website: http://www.DrVeronica.com
Summit: http://www.ThyselfSummit.com
Phone: 480.828.0762
Email: media(at)DrVeronica.com