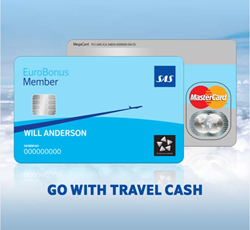 Austin, Texas, and Stockholm, Sweden (PRWEB) September 17, 2015
Rêv Worldwide, a payments processing and product innovations company, Scandinavian Airlines, the largest airline in Scandinavia, and Catella Bank, have partnered to launch the multi-currency Travel Cash wallet, a reloadable prepaid MasterCard feature that lets travelers earn EuroBonus Points as they shop across MasterCard-accepting merchants worldwide, adding the ability to exchange value between currencies to facilitate locking-in exchange rates before or during travel. It is the first product of its kind in Europe.
EuroBonus is the premier loyalty and frequent flyer program in the Nordic countries, where members accumulate points with flights, hotel stays, car rentals and even everyday purchases. The points are redeemed at either SAS or a wide selection of participating merchant partners ranging from other airlines, car rental chains, hotels, restaurants, resorts and more.
The new Travel Cash feature of the award-winning loyalty program will allow members to easily load their own money on a prepaid account, and use their membership card anywhere MasterCard debit cards are accepted, including ATMs worldwide, and earn EuroBonus points while shopping. Additionally, members will be able to convert funds loaded on the card, in real time via web and mobile application, into 11 available currencies. Other notable features include access to a virtual card, and MasterCard® Contactless PayPass™ service for faster payments.
"We are proud to continue our efforts to make life easier and delivering more value and convenience for our 4 million members, and this product reinforces our commitment to do so before, during, and after their journey, said Nils Lindhe, Head of SAS EuroBonus".
SAS selected Rêv as its product development and payments processing partner, to handle program management, utilizing Rêv's proprietary multi-currency processing platform and global experience with similar products. Rêv has successfully launched multi-currency payment programs around the world, with leading partners such as Air New Zealand, Virgin Australia, and Etihad Airways.
"We are looking forward to helping SAS develop a deeper relationship with their members by expanding their membership value further," said Bertrand Sosa, President, Rêv Worldwide.
The new prepaid MasterCard side of the new EuroBonus membership card is issued in partnership with Catella Bank, S.A., a European leader in prepaid card issuance services and a principal member of MasterCard Worldwide.
"Our collaboration with SAS and Rêv on this new product represents a great opportunity for us to deliver and lead with a truly innovative solution for a large customer base of a great partner", said Tord Topsholm, Managing Director of Catella Bank.
The program is expected to complete a full rollout this year, available to SAS members located in Denmark, Finland, Norway, and Sweden. To learn more about the new Travel Cash feature of the EuroBonus loyalty program, please visit: http://www.sas.se/travelcash. For a video on how it works, visit: https://www.youtube.com/watch?t=54&v=tpwF8aFRuFg
###
About Rêv Worldwide
Dedicated to driving widespread commercial availability of innovative financial services around the world, Rêv Worldwide helps partners rapidly and effectively access next generation payment opportunities enabling consumers to make affordable, safe and convenient financial transactions. Rêv's full range of integrated mobile and prepaid debit solutions – including Rêv-branded, co-branded and affinity payment products – are issued by banks, powered by its multi-language, multi-currency processing platform, and delivered by partners and directly to consumers through its growing global retail, online and mobile networks. Rêv operates in North America, Latin America, Europe, Middle East and Asia-Pacific. Learn more at http://www.revworldwide.com.
About SAS
SAS is the flagship airline of Sweden, Norway and Denmark, and the largest airline in Scandinavia, operating 182 aircraft to 90 destinations. The airline's main hub is at Copenhagen-Kastrup Airport, with connections to over 50 cities in Europe. Stockholm-Arlanda Airport with more than 30 European connections, and Oslo Airport, Gardermoen are the other major hubs. Minor hubs also exist at Bergen Airport, Flesland, Gothenburg-Landvetter Airport, Stavanger Airport, Sola and Trondheim Airport, Vaernes. In 2013/2014, a total of 28.4 million passengers traveled with SAS to destinations in Europe, the US and Asia. SAS is one of the founding members of Star Alliance. For more information, visit http://www.sasgroup.net.
Media Contacts
Rêv Worldwide
Bertrand Sosa
Bertrand.sosa(at)revworldwide(dot)com