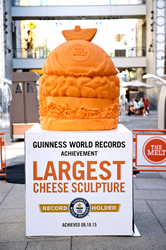 "As we approached the one-year anniversary of the introduction of cheeseburgers to our menu, we wanted to pay homage to all things cheesy – and put smiles on our fans' faces by breaking this record. We're happy to say we have accomplished that goal."
Los Angeles, CA (PRWEB) September 18, 2015
THE MELT, a fast-casual eatery headquartered in San Francisco with 15 locations across California and Colorado, today broke the GUINNESS WORLD RECORDS® record for the largest cheese sculpture. In celebration of National Cheeseburger Day, The Melt partnered with renowned cheese sculptor Troy Landwehr to create the 1,524 pound, record-breaking sculpture fittingly in the shape of a cheeseburger, complete with a pickle on top. A time lapse video showcasing the carving from start to finish can be found here.
The sculpture was carved over 30 hours from a one-ton block of 100 percent aged Wisconsin cheddar cheese. Debuting on National Cheeseburger Day (Sept. 18) at Los Angeles' popular Hollywood & Highland, the final sculpture measures in at 45 inches in height, 38 inches in width, and 1,524 pounds – 599 pounds more than the previous record-holding sculpture.
"The Melt added cheeseburgers to the menu in November 2014, and they have quickly become our most popular menu item," said Kerri Martin, VP of Marketing at The Melt. "As we approached the one-year anniversary of the introduction of cheeseburgers we wanted to pay homage to all things deliciously cheesy – and put smiles on our fans' faces by breaking this record. We're happy to say we have accomplished that goal."
The Melt encouraged cheeseburger lovers to be a part of the monumental day by offering all those who stopped by Hollywood & Highland on Sept. 18 the chance to win free cheeseburgers for a year. Social media users who snapped a creative "cheeseburger selfie" with the carving may post it to Facebook, Twitter, Instagram or Vine with the hashtag #TheBigCheese2015 by Sept. 20 to be automatically entered to win. The grand prize will come in the form of a $750 Melt gift card, and ten runner-ups will receive $50 gift cards.
In addition to breaking the GUINNESS WORLD RECORDS® record for the largest cheese sculpture, The Melt is also celebrating National Cheeseburger Day with their official charity partner – Whole Kids Foundation, a charitable organization of Whole Foods Market, Inc., that works to fund grants for edible school gardens and fun food education for kids. In honor of this record-breaking event, The Melt is donating an educational school garden to a Los Angeles based elementary school as part of their ongoing mission to help kids eat better, educate children about healthy food choices and have fun while doing it.
The Melt is a fast-casual eatery with locations in San Francisco, Los Angeles, Orange County, and Colorado that combines chef-inspired, 100 percent all-natural foods with an innovative and eco-friendly guest experience. The Melt offers a menu of wholesome and cheesy comfort food favorites including premium cheeseburgers made from a custom blend of Angus and Wagyu beef, grilled cheese using high-quality real aged cheeses, and soups and salads made from freshly harvested produce. The Melt uses only real, wholesome and all-natural ingredients with names you can actually pronounce.
To learn more about The Melt, please visit http://www.themelt.com.
ABOUT THE MELT
Headquartered in San Francisco, California, THE MELT is a fast casual eatery that combines chef-inspired, wholesome food with innovative technology with a mission to serve better food to families through 100 percent all-natural American classics. The Melt offers unique melts are handcrafted and made-to-order with quality standards that prohibit hydrogenated fats and artificial colors, flavors, sweeteners or preservatives — really, no artificial anything. Using only the highest caliber ingredients, The Melt serves guests burgers crafted with a custom blend of Angus and Wagyu beef, grilled cheese melts – melted to order – made with real aged cheese, crispy fries, mac 'n' cheese, homemade soups and fresh salads. In July 2014, the company developed and launched its catering 'Smart Box' to ensure the same quality of food and experience as in each store via the patented catering system. The growth of The Melt is fueled by a solid management team led by Flip Video founder Jonathan Kaplan and a top-tier board of directors including Ron Johnson, former head of retail operations at Apple; Mike Moritz, Bruce Dunlevie and Michael Marks, three prominent silicon valley venture capitalists; and Michael Mina, a James Beard award winning chef and restaurateur.