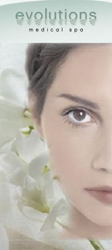 We wanted to be a business that would provide exemplary customer service. Receiving the award of 'Best Medical Spa' for the 9th year in a row tells me that we are getting the job done
Santa Barbara, CA (PRWEB) September 19, 2015
Evolutions Medical & Day Spa won the title of "Best Medical Spa" in the Santa Barbara News-Press Readers' Choice Poll of 2015. This is the 9th consecutive win for Evolutions, Santa Barbara's only combined medical and day spa.
Santa Barbara cosmetic surgeon Dr. Terry J. Perkins, who has been practicing cosmetic surgery in Santa Barbara for over three decades, founded Evolutions Medical Spa as he saw an increase in the demand for aesthetic medical treatments, such as Botox and dermal fillers. He opened Evolutions with the idea that people could have their aesthetic procedures done in a serene, spa-like setting, instead of a medical office. Dr. Perkins plays a large role in the spa by personally training all nurses and seeing clients every week.
"When we opened our doors almost ten years ago, our goal was to provide top-notch, innovative aesthetic treatments that yield results. We also wanted our services to include educating the clients so that they can make informed decisions about their procedures and we do so by offering no-pressure complimentary consultations. Finally, we wanted to be a business that would provide exemplary customer service. Receiving the award of 'Best Medical Spa' for the 9th year in a row tells me that we are getting the job done," commented Dr. Perkins. He also added that he and the whole staff of Evolutions are delighted and honored to receive the recognition and they wish to thank the community and their loyal clients for the vote.
Two years ago Evolutions expanded their menu, and their facility, to include day spa services such as massages, body treatments, facials, and waxing. They are now known as Evolutions Medical & Day Spa located in downtown Santa Barbara. To learn more about Evolutions Medical & Day Spa in Santa Barbara, California, visit EvolutionsMedicalSpa.com.
About Evolutions Medical & Day Spa:
Evolutions Medical & Day Spa is focused on results, rejuvenation and relaxation. The spa offers the very best technology and innovative treatments for all skin types and a wide variety of concerns, including acne, wrinkles, sun damage, tattoo removal, and hair removal. Their medical spa offers Botox, Dysport, laser hair removal, chemical peels and more. Their full service day spa offers luxurious massages, facials and body treatments. The staff is overseen and trained by owner and cosmetic surgeon Dr. Terry J. Perkins. Evolutions Medical and Day Spa serves Santa Barbara, Montecito, Goleta, Ventura, Oxnard and Santa Ynez. EvolutionsMedicalSpa.com or EvolutionsDaySpa.com.