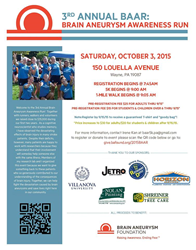 Together, we can help fight the devastation caused by brain aneurysms and save lives right here in our community.
Hanover, MA (PRWEB) September 17, 2015
Please join us for the 3rd Annual BAAR: Brain Aneurysm Awareness Run on Saturday, October 3, 2015 at 150 Louella Avenue in Wayne, Pennsylvania.
In previous years, this popular event raised close to $35,000 for the Brain Aneurysm Foundation—all thanks to the many runners, walkers and volunteers who have graciously participated.
A cognitive neuroscientist and members of his research lab initiated the annual Brain Aneurysm Awareness Run as a way to give back to those patients who they believed so generously contributed to their understanding of the consequences of brain injury.
"Together, we can help fight the devastation caused by brain aneurysms and save lives right here in our community," noted one of the events organizers.
The fee to participate in the event is $30 for adult, and $20 for students and children. All proceeds benefit the renowned Brain Aneurysm Foundation.
Registration on the morning of the event begins at 7:45am, and the 5K Run kicks off right at 9:00 am. Please note that chip timing will be provided for all runners. The 1 Mile Walk begins at 9:05am.
If you are unable to attend the event but would still like to participate and show your support, please register as a "virtual" participant by visiting the event website.
For more information, please contact Irene Kan at baar5k(dot)pa(at)gmail(dot)com.
Also, please note that there is a "Dining for Dollars" event at the Bertucci's located at 523 West Lancaster Avenue in Wayne from September 20th through the 24th. During this time, 15% of your bill will be donated to the Brain Aneurysm Awareness Run. Valid for dine in, carry out, and delivery. All you need to do is mention the "Brain Aneurysm Awareness Run" when you receive your check.
The Brain Aneurysm Foundation was established in 1994 in Boston, Massachusetts with a mission to promote early detection of brain aneurysms by providing knowledge and raising awareness of the signs, symptoms and risk factors; work with the medical communities to provide support networks for patients and families; as well as to further research that will improve patient outcomes and save lives. For more information about the Brain Aneurysm Foundation, visit http://www.bafound.org.