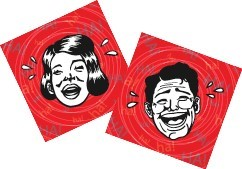 All proceeds benefit the renowned Brain Aneurysm Foundation.
Hanover, MA (PRWEB) September 18, 2015
Please join us for the 4th Annual Laughter is the Best Medicine Event scheduled to take place on Saturday, October 3, 2015 at Prince Pizza/Giggles located on Route One South in Saugus, Massachusetts.
This popular annual event never fails to provide a fun evening for all, complete with many laughs and giggles, as well as unlimited pizza! Tickets for the evening are just $30 per person, and include all the cheese pizza you can eat, plus the comedy of some of the area's best local comedians.
Doors to the event open at 6:30pm, and the event itself begins promptly at 7:30pm.
Please visit the event's website for more information and to purchase tickets. Or, you may contact an event organizer (Cathy Zardas) directly via email at: Godmom1997(at)verizon(dot)net.
All proceeds benefit the renowned Brain Aneurysm Foundation.
The Brain Aneurysm Foundation was established in 1994 in Boston, Massachusetts with a mission to promote early detection of brain aneurysms by providing knowledge and raising awareness of the signs, symptoms and risk factors; work with the medical communities to provide support networks for patients and families; as well as to further research that will improve patient outcomes and save lives. For more information about the Brain Aneurysm Foundation, visit http://www.bafound.org.