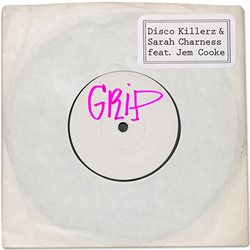 Sarah Charness' uplifting electronic violin grabs the airwaves and we're off and soaring through the choruses of this sun-soaked, radio-friendly song.
New York, NY (PRWEB) September 29, 2015
Disco Killerz & Sarah Charness team up with English vocalist Jem Cooke on the single, "Grip," the follow-up to Disco Killerz & Sarah Charness' first single, "We Came To Party." "Grip" is out now as a free download.
From the outset, Disco Killerz's come-hither, chiming synths instantly awaken the listener to this upbeat song full of positive vibes. The delicate beauty of the intro's melodic synth progression sets the tone just in time for Jem's sultry, full-throated vocal to take center-stage. Soon, Sarah Charness' uplifting electronic violin grabs the airwaves and we're off and soaring through the choruses of this sun-soaked, radio-friendly song.
"Grip" is ideally suited for blaring from the car stereo with the top down, our spirits cruising along an imagined roadway of eternal youth. The chorus builds, buoyed by the infectious quality of Jem's voice while Sarah Charness' electrifying, rousing violin takes over. In the end, Disco Killerz ensure that the song sits balanced in perfect harmony. Charness' violin acts as the flawless counterweight to the vocal melody while Disco Killerz' effusive production serves up just the right amount of joy on this bouncy song. Here is the catchiest of tunes to defy any kind of late-summer blues.
"Grip" is the first in a series of collaborations between Disco Killerz and Sarah Charness with vocal features including Delaney Jane and Kat Nestel. Additional music will be released in late-2015.
Soundcloud: http://bit.ly/1Eh1xsO
About Sarah Charness
Hailing from New York, electronic violinist Sarah Charness creates a singular blend of music that straddles the worlds of classical, pop and electronic dance music (EDM). Her vibrant, physically thrilling live performances continuously captivate audiences both large and intimate and spectators are completely absorbed the moment she begins playing her signature hot-pink six-string violin. In 2015, Charness released her first track with Disco Killerz, "We Came to Party" which reached #48 on the Beatport "Hot 100 Electro House" chart. As a soloist, Charness has toured North America with the American progressive-rock band, the Trans-Siberian Orchestra. In 2015, she headlined at the Summer Experience Music Festival in Capetown, South Africa, and she was the feature performer during the New York Knicks halftime show at "The World's Most Famous Arena®," New York City's Madison Square Garden, as well as on the runway during Mercedes Benz Fashion Week. Charness has appeared on "The Today Show" (NBC-TV), "NY-1" (Time Warner Cable) and on "NBC Nightly News" (NBC-TV), with print features appearing in Crain's New York, The Daily, The International Musician and other publications. Last year, Charness' signature bright-pink violin was the lead-in theme introducing boxing on ESPN Deportes. In addition to Madison Square Garden and leading nightclubs around the world, Charness has also performed at Radio City Music Hall® and Carnegie Hall in New York City, The John F. Kennedy Center for the Performing Arts in Washington D.C., The Chicago Theatre in Chicago, Massey Hall in Toronto, and the Prague Opera House in the Czech Republic. Charness has also performed alongside the Jonas Brothers, and has opened for Diana Ross, Ne-Yo, Flo Rida, Jennifer Hudson and others.
About Disco Killerz
Based in New York, Disco Killerz's current track is titled "Satisfaction" featuring Larcy and is a collaboration with Liquid Todd. This release was created for Cadence & Cause, a nonprofit organization helping to prevent hearing loss by way of early screenings for children in conjunction with the Electronic Music Alliance's #PlayItForward campaign. It first premiered on SiriusXM Radio and has garnered praise from DancingAstronaut, KickKickSnare and The Music Ninja. Music by Disco Killerz is supported by Tiësto, Paul Oakenfold, Diplo, 3LAU and others. Music from the members of Disco Killerz has also been released on Oxygen/Spinnin' Records, Perfecto and Hood Famous Records. Today, Disco Killerz produce original music and remixes from their Room Six Hundred studio in the heart of New York City.
About Jem Cooke
Jem Cooke is a singer/songwriter from London signed to a publishing deal with Sony ATV through Naughty Words. Her music has received support from the BBC's Radio-1, KissFM and other radio stations in the UK. Cooke's performance on Christoph's "Slowly Burning" is making waves at British radio and Cooke's next release, "One Time Game," is a collaboration with Emerald City co-owner Jamie Jones, Kate Simko and London Electronic Orchestra.
For more information on Disco Killerz & Sarah Charness, as well as information on Armin van Buuren, Aly & Fila, Andrew Rayel, John Dahlbäck, MaRLo, Giuseppe Ottaviani and Armada Music, contact EMILY TAN Media Relations in the U.S., +1(917) 318-3758, EmilyEmilyTan(at)aol(dot)com. Visit http://www.soundcloud.com/discokillerz and http://www.sarahcharness.com. Follow EMILY TAN Media Relations on Twitter @EmilyEmilyTan.
# # #