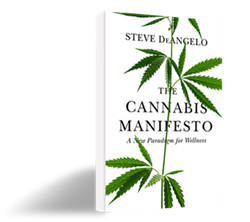 The Cannabis Manifesto, has the potential to legitimize legalization for medical cannabis on a global scale, reframing how people perceive the plant today and its medical usages.
Tampa, Florida (PRWEB) September 18, 2015
CannaVoices, a premiere legal medical cannabis digital media company, proudly recognizes leader in the industry Steve DeAngelo's new book The Cannabis Manifesto set to launch September 2015.
Leading digital media company of the medical cannabis space, CannaVoices, review of The Cannabis Manifesto, A New Paradigm for Wellness, by author Steve DeAngelo is nothing but praiseworthy!
The Cannabis Manifesto presents a compelling and detailed case for medical cannabis as a health and wellness catalyst, pro legalization. The manifesto accounts a call to action, a radical stance, and vision for the plant in regards to human relationship with its healing benefits.
The author's view takes the stereotype and preconceived notion about the plant and transforms and challenges readers to think beyond everything they thought they knew about marijuana.
The Cannabis Manifesto answers and poses questions about the plant, based on many years' research to provide factual and thoughtful discussion to its readers. Extensive research about cannabis science, law, biological usage, as well as mental and spiritual effects on the human being is explored inside the manifesto.
DeAngelo goes deep in depth regarding the cannabis prohibition and how that has warped our viewpoint and even our institutions – family, doctors, government, etc. The Cannabis Manifesto is the talking point that will forever change the perception and the way the world currently perceives the plant, its wellness benefits, and the laws governing its usage.
About the Author
Steve DeAngelo an icon in the cannabis space, is the founder of Harborside Health Center, the world's largest medical-cannabis dispensary with over 200,000+ registered patients as well as a cannabis activist, cannabis entrepreneur, and cannabis expert for over 40+ years. DeAngelo has been a cannabis activist, advocate, entrepreneur, and educator for four decades. He is the co-founder of Arc View, the cannabis industry's first investment and research firm and one of the top ten angel investment groups in the U.S. He is co-founder of Steep Hill Laboratory, the nation's first cannabis testing facility. DeAngelo starred on Weed Wars, a very popular mini-series on The Discovery Channel.
DeAngelo's vision is large and leading the future of the cannabis space. In a recent documentary, Steve was quoted stating his passion started at a very young age. He found cannabis and did nothing else. He made cannabis legalization his life's mission. His passion for the patients' weigh on him, knowing there are incredible benefits that cannabis has for those suffering from misery-causing conditions and illnesses. With the research conducted DeAngelo stresses we have scientific proof explaining the widespread advocacy of cannabis. His vision is to live in a world where cannabis use is more common, more widespread, making our lives and this place a much kinder, gentler, and more inclusive kind of world than what we have now. DeAngelo sees a world with a greater appreciation for nature, creativity more highly noted and appreciated than conformity.
His vision and leadership has been featured around the globe in news sources including but not limited to the New York Times, Washington Post, CNN, Associated Press, Wall Street Journal, NPR, and BBC.
Why should you buy this book? This book, The Cannabis Manifesto, has the potential to legitimize legalization for medical cannabis on a global scale, reframing how people perceive the plant today and its medical usages. As well as with this manifesto readers will be more educated on cannabis and its consumption with facts and scientific research. In addition this book guides the readers understanding of opportunities and challenges ahead with regards to the legalization of medical marijuana. DeAngelo's truthful, exciting, and passionate stories in his manifesto will surely tug at your emotions in the quest for legalizing cannabis.
How can you get a copy? To get your very own book you can preorder with CannaVoices today! When you preorder at http://www.thecannabismanifestobook.com you will receive exclusive offers and bonuses that are for a limited time. To support the legalization for medical cannabis and the movement, visit http://www.thecannabismanifestobook.com.
For more information about the launch visit http://www.thecannabismanifestobook.com or contact Media Relations at info(at)ibossadv.com or call 813-775-7107.
About CannaVoices
CannaVoices is the definitive guide to everything in the Legal Medical Cannabis Space. Every magazine and documentary features exclusive topics with a focus to all that is Legal Medical Marijuana. With an insider's eye afforded through an unparalleled list of high profile contributors, the CannaVoices media initiative covers the best Legal Medical Cannabis has to offer in the worlds of medicine, business, investing, culture, entertainment, technology, and travel.