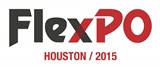 delegates from around the globe will be joining to contribute to the discussion
(PRWEB) September 18, 2015
There is just one month left until FlexPO 2015 takes place at The Woodlands, Houston Texas.
Chemical Market Resources (CMR) is pleased to announce that delegates from around the globe including Austria, Belgium, China, France, Germany, Japan, Mexico, Switzerland, Thailand and more will be joining us in Houston to contribute to the discussion around the theme Chemical Industry Game-Changers: What's Next?
Attendance at the 2015 FlexPO Conference will provide insights on a range of topics across the Oil Price Reset; New Technologies; Catalyst Innovations; Product Development and Market Trends in Olefins and Polyolefins and the Latest Market Dynamics and Outlooks.
The full speaker line-up now includes Accenture, Albemarle Corporation, American Chemistry Council, BASF Corporation, Beijing Research Institute of Chemistry Industry/SINOPEC, Borealis, CBI Lummus Novolen Technology, Clariant, Fluor, INEOS Technologies, Jacobs Consultancy, Japan Polypropylene Corporation, Kraton Performance Polymers, Mitsubishi Chemical Group Science and Technology Research Center, Nippon Aluminum Alkyls, PLG Consulting, Polymer Consulting International, PTT MCC Biochem, Siluria Technologies, The Chemical Heritage Foundation, TOTAL Petrochemicals & Refining USA, TPC Group, Univation Technologies and specialist papers from Chemical Market Resources (CMR).
In 2015, Chemical Market Resources have introduced a commercially focused day to the FlexPO conference. This is aimed at increasing integration between the technical developments in the industry with the commercial opportunities available in the market. We believe this will be a valuable addition to the program for our delegates.
FlexPO 2015 will begin with the Welcome Reception on Monday the 19th of October. The Welcome Reception will provide delegates with an excellent opportunity to meet in a relaxed environment prior to the official program commencing on Tuesday morning.
FlexPO 2015 Program Outline
Monday 19 October

Evening Welcome Reception
Tuesday 20 October

Day One: Innovation and Future Trends
Evening Networking Drinks
Wednesday 21 October

Day Two: Process Technology, Catalyst Innovation and Market Trends in Olefins/Polyolefins
Thursday 22 October

New Products and Product Development
For more information or to register please visit flexpo.cmrhoutex.com or email flexpo(at)cmrhoutex(dot)com
About CMR
Chemical Market Resources, Inc. (CMR) was established in 1990 to undertake business research and strategic planning for a global clientele base concentrated in the chemical, petrochemical, plastics and allied industries.
CMR Inc. provides clients with thoroughly researched market studies emphasizing emerging trends in the industry, changes in technology supporting these trends and strategic direction assessment so that our clients can optimize opportunities in specific markets.
FURTHER INFORMATION
Emily Hardwick
Conferences Manager
E: ehardwick(at)tzmi(dot)com