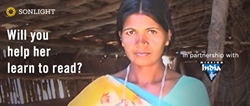 Sonlight helps parents raise children who are globally concerned.
Littleton, Colo. (PRWEB) October 16, 2015
Through their "Love to Learn Around the World" project, Sonlight donated a portion of every order to Mission India, a non-profit organization whose mission is to equip India's Christians with the tools to plant churches.
"Because of our customers' generosity, we are able to help transform the lives of nearly 10,000 people," said Sonlight's Tim Heil.
"Sonlight helps parents raise children who are globally concerned. In keeping with that goal, we've made it a priority to become aware of and extend a hand to people of other cultures throughout our 25-year history," Heil stated.
He noted that India is the most "unreached" nation in the world, with more than 400 million who've never heard the name of Jesus. "It's fulfilling to enable our customers to share the Good News with thousands of boys and girls across India."
India has one of the worst literacy rates in Asia, with just 63 percent of the adult population able to read and write, well below the world average of 84 percent.
"With the help of Sonlight customers, thousands of men and women in India will get the chance to learn to read for the first time. They'll experience meaningful and lasting change for the better. Our homeschooled families have positively influenced their own children and have also shared the love of learning with people around the world," Heil said.
About Sonlight:
Sonlight Curriculum is a pioneer in literature-based curriculum from preschool through high school. Sonlight has been inspiring a love to learn in families for 25 years. Based in Littleton, Colorado, Sonlight is a Christ-centered company providing complete curriculum packages and individual resources to enable parents to homeschool their children in more than 120 countries.