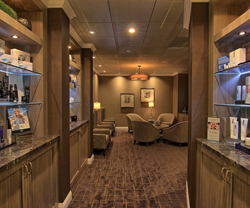 Newport Beach, CA (PRWEB) September 17, 2015
BioSpa is pleased to announce that it will hold a celebratory Grand Opening event for its newly completed luxury medical spa in Newport Beach, CA. on Thursday, September 24, 2015 from 4 p.m. to 8 p.m. Due to limited space, those wanting to enjoy the festivities must call in advance to place their name on the guest list. Deadline is Tuesday, September 22nd at 5pm.
"We are excited to share our beautiful medical spa with the community. This has been a vision of ours for many years and it is exciting to finally see it come to life. We are proud of what we have created and look forward to being recognized as the premier medical spa in not only Newport Beach, but all of Orange County," explains Drs Horowitz and Nichter.
To learn more or register for the event online, please visit:
http://www.pacificcenterplasticsurgery.com/event/
The event will feature tours of the medspa, complimentary gift bags, food and beverage, meet and greet with the doctors, staff and representatives from leading aesthetic companies, raffles with giveaways, special event only offers, "test the laser" demo stations, and complimentary 3D imaging.
BioSpa, a leading medical spa in Newport Beach, is owned and operated by two of the area's leading plastic surgeons, Dr. Jed Horowitz and Dr. Larry Nichter. The BioSpa was previously located within their plastic surgery practice, Pacific Center for Plastic Surgery. As the demand for non-surgical cosmetic treatments continued to grow year after year, the doctors decided it was time to expand their medical spa into its own location. The BioSpa is located across from their plastic surgery practice and boasts nearly 2,000 square feet of space with treatment rooms dedicated to specific services such as lasers, injectables, body shaping devices, PRP hair growth treatments and more. The BioSpa was exquisitely designed & decorated by Dr. Jed Horowitz's wife, Joanne Horowitz, who is an expert in interior design. The space is luxurious, yet has a warm intimate feel.
About the BioSpa:
The BioSpa, located in Newport Beach, California, is headed by two of Orange County's well regarded plastic surgeons, Dr. Larry Nichter and Dr. Jed Horowitz. Both doctors have over 27 years of experience specializing in both surgical and non-surgical cosmetic procedures. Dr. Nichter and Dr. Horowitz are board-certified by the American Board of Plastic Surgery, and belong to the the American Society of Plastic Surgeons and The American Society for Aesthetic Plastic Surgery, the most exclusive plastic surgery societies in the United States. Dr. Nichter and Dr. Horowitz have received numerous awards over the years for their surgical expertise and patient care. The BioSpa offers a full array of non-surgical treatments such as injectables, lasers, medical grade chemical peels, fat reduction, body shaping, skin tightening, cellulite reduction, hair removal, sweat elimination, as well as several lines of high quality skin care products.