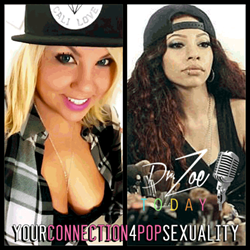 New York, NY (PRWEB) September 17, 2015
When Eazy-E's daughter Erin "E.B." Wright appeared on Dr. Zoe Today earlier this month, her interview went viral.
Press couldn't seem to get enough of three especially shocking moments. With Host, Dr. Zoe Shuster initiating, first, Miss Wright shut down rumors that Suge Knight killed her father by administering AIDS via an injection during a famous incident at a studio where Eric Wright was forced to sign over Dr. Dre.
The second was that "The Godfather of Gangsta Rap" was not beat up during this same event, as was made famous by the box office hit "Straight Outta Compton" and third, E.B. implied that AIDS was not how she believed her father died, announcing a more in-depth explanation will be portrayed in her upcoming documentary, "A Ruthless Scandal: No More Lies".
The story was picked up in hundreds of media outlets including The Source Magazine, HipHopDX and The Wrap, and continues to resurface as a reference like in this Music Times article.
Due to the massive response to this interview, Dr. Zoe Today has decided to air a special rerun this Thursday. The episode will air 9:00PM EST in the free "Dr. Zoe Today" app which is available on the App Store and Google Play, as well as on their website DrZoeToday.com