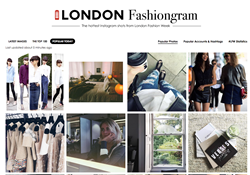 The average number of likes for an #LFW Instagram post is 14. Mercedes Benz, currently the most popular brand, achieve an average of 61,000 likes per post.
London, UK (PRWEB) September 18, 2015
UK based BirdSong Analytics launches new real time site http://www.londonfashiongram.com tracking Instagram posts around London Fashion Week. The site publishes a real time feed of posts around key hashtags for London Fashion Week, identifying the most popular posts and providing deeper analytics for brands and bloggers.
The free site provides a live insight into the volume of posts before, during and after London Fashion Week tracking popularity of posts and key metrics including volume of posts by day, most popular hashtags ranking the most active and most popular Instagram accounts.
Conceived and Built by the team at BirdSong Analytics, http://www.londonfashiongram.com aims to provide real time social media insight into a key event in the fashion calendar as seen through the posts of Instagrammers.
Tracking the volume of posts around Fashion Week, the site highlights an increased volume in posts around the key hashtags. On Monday 14th September 1,500 Instagram posts were tagged #LFW, #LFW2015 or #LondonFashionWeek. By Wednesday this had grown to 2,100+ posts.
#LFW is currently the most popular hashtag included on 60% of all tagged posts.
An Instagram post including these tags currently achieves an average of 14 likes and just 3 comments.
On Thursday 17th September, Mercedes Benz was achieving the greatest 'likes' for any brand with LFW tagged posts. River Island currently have the most commented posts.
Speaking of the launch, BirdSong Analytics Co-Founder Jamie Riddell stated, "Fashion & Instagram now go hand in hand. We wanted to capture the buzz of London Fashion Week and to provide some valuable insights into who is posting around the week, which brands and bloggers are achieving the greatest engagement and what were the standout pieces from the shows."
LondonFashiongram was created to demonstrate the Instagram Analytics provided by BirdSong and their work in creating bespoke insights for global brands.
Note to Editors
BirdSong Analytics is the World's leading 'Pay as you Go' Social Media Analytics Tool. It provides on demand insights for any Instagram account,Facebook Fan Page, Twitter account or YouTube Channel.
Made in Great Britain, the tool is trusted in over 100+ countries. BirdSong Analytics is a Shorty Awards Finalist 2015.