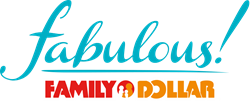 I'm excited to be a part of the third annual Family Dollar Fabulous as I work with top African-American beauty suppliers and online influencers to find stylish, cost effective solutions to everyday beauty and clothing concerns. - Lloyd Boston
Matthews, NC (PRWEB) September 17, 2015
Family Dollar Stores, Inc. a leading national discount retailer offering name brands and quality, private brand merchandise, today announced it will host its third annual "Family Dollar Fabulous" event. This invitation-only event will be held in Atlanta, Georgia October 6-7, and is designed to partner Family Dollar's most trusted African-American beauty brands with today's influential beauty, lifestyle, and fashion vloggers and bloggers.
"Family Dollar offers top notch African-American beauty supplies and clothing in its more than 8,200 stores across the U.S.," says Family Dollar's Chief Merchandising Officer, Jason Reiser. "Whether it"s hair-care, skin-care, cosmetics or Family Dollar's own Just Be…" clothing line, Family Dollar is your one-stop-shop for everything fabulous at everyday low prices. Family Dollar Fabulous is just one way we show our appreciation to our supplier-partners and bloggers, while also providing a platform to showcase the incredible beauty and fashion products we offer."
This year, NY Emmy-nominated television host and America's favorite TV fashion journalist, Lloyd Boston, will serve as event spokesperson. From New York Fashion Week to the biggest nights in Hollywood, Lloyd is the style journalist who gets all the hottest red carpet reveals. Family Dollar is excited to bring Lloyd on board for Family Dollar Fabulous as he shares insights and answers questions on how to look fabulous on a dime.
"From skin tones, hairstyles, and a unique sense of style, this event is a great way to celebrate the beauty and fashion of the African-American woman," says Lloyd Boston. "I'm excited to be a part of the third annual Family Dollar Fabulous as I work with top African-American beauty suppliers and online influencers to find stylish, cost effective solutions to everyday beauty and clothing concerns."
Stay up to date on the latest news and happenings at Family Dollar at http://www.facebook.com/familydollar or Twitter at @myfamilydollar. Customers can check the hours of their local Family Dollar stores at http://www.familydollar.com.
About Family Dollar
For more than 55 years, Family Dollar has been providing value and convenience to customers in easy-to-shop neighborhood locations. Family Dollar's mix of name brands, and quality, private brand merchandise appeals to shoppers in more than 8,200 stores in rural and urban settings across 46 states. Helping families save on the items they need with everyday low prices creates a strong bond with customers who refer to their neighborhood store as "my Family Dollar." Family Dollar, headquartered in Matthews, North Carolina, is a wholly-owned subsidiary of Dollar Tree, Inc. of Chesapeake, Virginia. For more information, please visit http://www.familydollar.com.
Bryn Winburn
Public Relations Manager
(704) 708-1653
bwinburn(at)familydollar(dot)com
http://www.familydollar.com