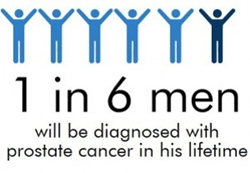 Rock Hill, SC (PRWEB) September 18, 2015
According to the American Cancer Society, prostate cancer is the second leading cause of cancer death of U.S. men. However, if diagnosed early, the five-year survival rate is almost 100 percent.
Because one in six men will be diagnosed with prostate cancer in their lifetime, it is important for men to learn the signs and symptoms of prostate cancer. Men can have different symptoms of prostate cancer including:

difficulty starting urination
frequent urination (especially at night)
weak or interrupted flow of urine
blood in the urine or semen.
In recent years, there has been controversy over when men should be screened for prostate cancer which increases the need for all men to learn about prostate cancer screening methods, including the drawbacks and benefits to current screening tests.
Screening for prostate cancer with Prostate Specific Antigen (PSA) test or the Digital Rectal Exam (DRE) is typically performed at a man's yearly physical. These tests can increase the chances of catching prostate cancer early, which may make treatment more effective. Some potential risks with these screening methods include false positive test results (the test says you have cancer when you do not), unnecessary prostate biopsies, treatment of prostate cancers that may never affect your health, and mild to serious side effects from treatment of prostate cancer.
According to the National Cancer Institute more than 1 million men undergo prostate biopsy due to false positive screening results, while only 25% actually have cancer. The need for greater specificity in screening has never been more important. PCLS is committed to helping reduce the number of unnecessary biopsies, cut back on the over diagnosis and treatment of prostate cancer, and lower costs associated with prostate cancer detection.
We do this by offering the Prostate Health Index (phi), which is:

The phi score provides more accurate information about what an elevated PSA level might mean and the probability of finding prostate cancer during a biopsy. The phi test is fills the diagnostic gap between PSA screening and a prostate biopsy by helping physicians determine which patients might have an elevated PSA due to benign conditions such as BPH or prostatitis and which patients are most likely to have prostate cancer found on biopsy.
About PCLS
PCLS is an emerging esoteric laboratory that goes beyond testing to provide innovative solutions to healthcare problems. PCLS has a unique mix of services that are designed to inform physicians about their patient's health status relative to several difficult to manage disease states including narcotic misuse and abuse, neonatal abstinence syndrome, titrating psychiatric drugs for debilitating mental disorders, and cancers. The company has broadly invested in offering high value diagnostics that enable personalized and precision medicine to better manage these complicated disease states with the goal of improving health outcomes.