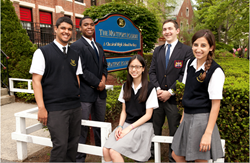 "This is an extraordinary recognition of Montfort's authentically Catholic and academically excellent education. Our classical approach helps students become their best selves and move confidently into the world." Richard Greco, Jr., Chairman of the Board
Mt. Vernon, NY (PRWEB) September 22, 2015
The Montfort Academy's founder and chairman of the board Richard Greco, Jr. announced today that The Montfort Academy has been ranked among the 20 "Best Private High Schools in New York State." The ranking was published by K-12 Niche.com, which offers insight into more than 120,000 K-12 schools in the United States. According to the website, a high ranking indicates that the school is "an exceptional academic institution with a diverse set of high-achieving students who rate their experience very highly."
"We are immensely proud of--and humbled by--this ranking," said Richard Greco, Jr., who founded The Montfort Academy fourteen years ago as a classical Catholic high school, offering a Great Books curriculum and Socratic teaching methodology. "It is a testament to the relentless pursuit of excellence by our dedicated board, administration, and faculty and the high level of satisfaction by our students and parents. This ranking is an extraordinary recognition of Montfort, but it pushes us to strive ever more for continued and greater excellence."
The Montfort Academy is one of only two Catholic high schools in New York State to make Niche.com's top 20 best private high schools ranking and is the only Catholic high school in Westchester County or the Bronx to make the list.
Richard Greco, Jr. continued, "This ranking places Montfort next to distinguished private high schools that have existed for over 100 years, many of which charge $35,000 or more per year in tuition. We began only fourteen years ago, but over those fourteen years we have built a reputation for offering an uncommon education that is authentically Catholic, academically excellent, and affordable. Our tuition for 2016 will be $12,500 plus fees."
Richard Greco, Jr. added, "From the Great Books to the Great Conversation; from Astronomy and Physics to Calculus; from Latin and Greek to Philosophy; from Chivalry and Christian Womanhood to Theology, our faith-filled and passionate teachers guide our students in a relentless intellectual and spiritual pursuit of Truth. Teachers and students together delve into the traditions of Western Civilization and the teachings of the Catholic Church. Through their participation in classroom Socratic dialogues and scientific experimentation, in the sacraments and sacred liturgies, and in meaningful extracurricular activities like our St. Joseph the Worker and our Pro-Causa Vitae clubs, Montfort students gain confidence and ultimately own a share in the wisdom of the ages."
More About The Montfort Academy
The Montfort Academy is an award winning classical Catholic high school in Mt. Vernon, NY. Ranked among the best 50 Catholic high schools in America and among the best 20 private high schools in New York State, Montfort is only classical high school in the Archdiocese of New York. The Montfort Academy has a 100% college admissions rate and seeks to graduate students prepared for college and beyond, well-balanced in mind, body, and soul. For more information on The Montfort Academy please call headmaster David Petrillo (Lt. Col. USAF ret.) at 914-699-7090 or visit the website http://www.themontfortacademy.org.