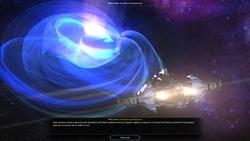 With over a hundred thousand words, translating Galactic Civilizations III is like translating a book
Plymouth, MI (PRWEB) September 17, 2015
Stardock's award-winning, best selling space strategy game, Galactic Civilizations III continues to get strong post-release updates including this week's inclusion of multi-language support, stronger AI, more music, bug fixes and much more.
Released today, Galactic Civilizations III 1.31 adds on to the recently released 1.3 update which added a host of new user interface features requested by fans of the series with support for German, French and Russian languages.
"With over a hundred thousand words, translating Galactic Civilizations III is like translating a book," said Brad Wardell, President & CEO of Stardock. "It was important to us that every civilization in the game have their own technology tree and its own diplomatic dialog. But doing so made it a real challenge to translate it."
The new version also continues to add new features requested from the community including user interface improvements, better AI and balance changes.
"Building this game via a custom made 64-bit strategy engine has allowed us to give players the ability to create vast, interstellar empires," said Wardell. "But it also keeps us on our toes for making sure that the computer players play intelligently while at the same time making sure multiplayer games don't get bogged down in micromanagement. The GalCiv fan community has been tremendously helpful in giving actionable feedback."
Galactic Civilizations v1.31 is now available for download from http://www.galciv3.com or via its Steam page. http://store.steampowered.com/app/226860/
Screenshots: http://www.stardock.com/press/gciiipress/
Changelog: http://forums.galciv3.com/471484/page/1/#3589282
###
About Stardock
Stardock is a developer and publisher of PC games and desktop software founded in 1991 by nationally recognized technology expert Brad Wardell. Located in Plymouth, Michigan, Stardock is a powerful leader in the video gaming and software development world. Its PC games include Sins of a Solar Empire, the critically acclaimed Galactic Civilizations series, and the highly anticipated upcoming Ashes of the Singularity. Stardock puts the user experience first through software that enriches the Windows experience for everyone from casual computer users to highly technical professionals. Products offered by Stardock include Start8, Start10, Fences, WindowBlinds, Multiplicity, and more. http://www.stardock.com