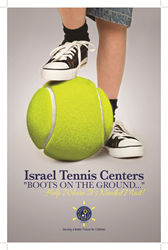 New York, NY (PRWEB) September 22, 2015
As the Israel Tennis Centers Foundation approached the New Year 5776, the non-profit announced a new campaign resulting from the ITC's unique approach to helping the children of Israel. "Boots On The Ground...Help where it's needed most!" is the ITC's way of describing how it provides real solutions to the day-to-day challenges affecting thousands of Israeli children of all backgrounds.
According to a recent study, child poverty in Israel is at a record 35.6% of its total population...nearly one of every three Israeli children...ranking it 4th among all developed nations! In response, donors were asked to go to http://www.israeltenniscenters.org to help reverse the impact of this terrible trend by supporting the many social impact programs of the ITC.
ITC programs go far beyond helping children become better tennis players. The real focus is becoming better human beings. Through its social impact programs, a wide range of children are served, including youth at risk, immigrants and children with special needs, from autism and ADHD to Down Syndrome as well as those with developmental and physical disabilities. Tennis has the unparalleled ability to bring together children from different religions in coexistence programs, promoting understanding, cooperation and friendship on and off the court.
About the Israel Tennis Centers Foundation:
The Israel Tennis Centers Foundation (ITC) is a 501 (c) 3 not-for-profit organization that works tirelessly through the medium of sport to enhance the development of Israeli youth. Since opening its first center in Ramat Hasharon in 1976, the ITC has helped over a half million children, many of whom come from outlying development towns throughout Israel. The ITC's 14 centers stretch from Kiryat Shmona on the Lebanese border in the North to Beer Sheva bordering the Negev Desert in the South. http://www.israeltenniscenters.org.
Contacts:
Jacqueline Glodstein
ITC Executive Vice President/Global Development
212-784-9201
jglodstein(at)israeltenniscenters(dot)org
Richard Weber
ITC Global Director of Marketing
212-784-9202
rweber(at)israeltenniscenters(dot)org