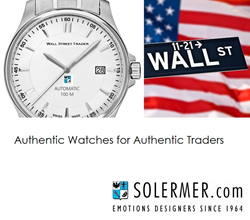 London (PRWEB) October 16, 2015
SOLERMER.com, a London-based, family-run designer of exclusive timepieces, announces the debut of its line of "Authentic Watches for Authentic Traders," the first line of watches created to appeal to its target market – stock market brokers and traders at the world's busiest financial centers, including Wall Street in New York, Tokyo, Hong Kong, Shanghai, and Frankfurt, Germany, home of the largest financial center in Europe.
Despite the transition men in other professions have made, using their cell phone as their only timepiece, the wristwatch remains a status symbol on Wall Street. "Our research reflects the enthusiastic feedback we always received from customers who work in financial markets," said SOLERMER.com CEO Jean-Marc de Fety. "Wall Street traders still wear classic, analog watches and regard the wristwatch as an elegant status symbol that anchors their outfit."
Starting with the flagship WALL STREET TRADER model, SOLERMER.com watches are ideal accessories for (and are worn by) top financial executives at many of the world's premier investment banking firms. "Their dynamism and innovation guarantee the best performance," said Gustave Rieunier, Head of FX Options. Gilles Marchesin, former Goldman Sachs Director and the Chorus Capital C.E.O., added, "SOLERMER is the best advantage in the industry."
Each watch is also a perfect gift for would-be bankers and traders because of the distinctive craftsmanship and beauty of every item from SOLERMER.com.
The WALL STREET TRADER wristwatch, handmade in Switzerland, has a stainless steel case and bracelet, an automatic movement, a two-year guarantee and a 30-day money-back guarantee. It retails for USD $2,290 (price effective on Sept. 15, 2015) with free express shipping. It also has an elegant 39-millimeter white dial and date, with a sapphire glass crystal, and is water-resistant up to 100 meters.
Each watch represents the timeless values of the SOLERMER brand, brand, founded in 1964 by Georges de Fety, a graduate of Oxford University and a member of a celebrated family of French entrepreneurs and patriots. Jean-Marc de Fety, who took over CEO duties from his father earlier this year, has an undergraduate degree from Columbia University, and a Master's of Science from Mines ParisTech. Because of his background as an executive at BNP Paribas, Credit Suisse, and Barclays, de Fety has the background and fashion sense of a financial trader. "Among traders, a stylish wristwatch can still impress friends and intimidate foes," said de Fety.
Fans of SOLERMER.com watches agree. While utilitarian and affordable smart phones and digital watches become the preferred timepiece of men growing in many industries, among financial traders on Wall Street, the SOLERMER wristwatch remains the Stylish timepiece of choice.
About SOLERMER.com
SOLERMER.com has a distinguished heritage and a commitment to exceptional quality, handcrafting a variety of acclaimed lifestyle products. For more information, please visit http://www.SOLERMER.com
Your contact: Ieva Sarkauskyte – email: ieva(dot)sarkauskyte(at)solermer(dot)com – phone: +370 686 648 31