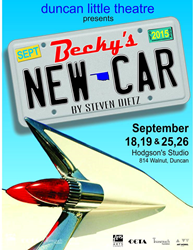 Duncan, OK (PRWEB) September 24, 2015
Duncan Little Theatre(DLT) works hard to bring the best in community theatre. Be amazed at the incredible talent that performs at each and every show. Rated as one of the most outstanding community theatres in Oklahoma, DLT presents an exciting variety of comedies, dramas and family entertainment year round. Check out this season's line up and save the dates!
"Becky's New Car" - Have you ever been tempted to flee your own life? Becky Foster is caught in middle age, middle management and in a middling marriage (with no prospects for change on the horizon). Then one night a socially inept and grief-struck millionaire stumbles into the car dealership where Becky works. Becky is offered nothing short of a new life... and the audience is offered a chance to ride shotgun in a way that most plays wouldn't dare. Becky's New Car is a thoroughly original comedy with serious overtones, a devious and delightful romp down the road not taken. Becky's New Car will show at Hodgson's Studio, 814 Walnut, on Sept 25-26 at 7:30 PM.
"Miracle on 34th Street" - This is a tale we want to believe in! It creates a world we desperately desire, free of commercialism, where love, decency and generosity of spirit are their own rewards. It's what we want Christmas to be. Kris Kringle, an old man in a retirement home, gets a job as Santa for Macy's. Kris unleashes waves of good will with Macy's customers and New York City. Seen as deluded and dangerous by Macy's vocational counselor, Kris ends up in a court competency hearing. At stake is a little girl's belief in Santa. In a dramatic decision, the court confirms Kris as the true Santa, allowing Susan and countless other children to experience the joy of childhood fantasy. "Miracle on 34th Street" is scheduled at the Simmons Center on Nov 13-14, 20-21 at 7:30 PM.
"Beauty and the Beast" - Be our guest! Step into the enchanted world of Disney's Beauty and The Beast. This stage version includes all of the wonderful songs from the original Broadway production. The classic story tells of Belle, a young woman in a provincial town, and the Beast, who is really a young prince trapped under the spell of an enchantress. If the Beast can learn to love and be loved, the curse will end and he will be transformed to his former self. But time is running out. If the Beast does not learn his lesson soon, he and his household will be doomed for all eternity. Come and enjoy this "tale as old as time" for family theatre at its best. Beauty and The Beast is scheduled for Feb 19-20, 26-27 at 7:30 PM nightly at the Simmons Center.
DLT will be placing a festival play in competition at the bi annual Oklahoma Community Theatre Association's OCTAFest. The performances June 11 and 12th at the Simmons Center will be an exclusive preview for the home audience as an inside look at how a competition piece is stage and presented. In 2012, DLT won the state competition and traveled to the regional competition where their actresses and the play won several awards.
For more information on showtimes, tickets, and more, please visit http://www.duncanlittletheatre.com or http://visitduncan.org.