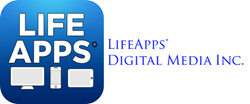 LifeApps welcomes the business acumen and the renewed energy Mr. Roan will bring to the company in building strategies for future growth.
San Diego, CA (PRWEB) September 17, 2015
LifeApps Digital Media Inc. (OTC: LFAP) ("LifeApps"), an emerging growth company, and designer of m-health, fitness and sports applications ("apps") has approved through unanimous consent of the board of directors the induction of Lawrence Patrick Roan to the LifeApps Board. Mr. Roan will help LifeApps as the company expands its eCommerce sports, health and lifestyle sales and digital business.
"We are excited to have Mr. Roan join our board of directors. Mr. Roan joins Dr. Howard Fuller Director, Arnold Tinter CFO and Robert Gayman CEO on the board. Mr. Roan has been consistently committed to the growth of the company assisting the development of LifeApps with both investment capital and consultancy," states Robert Gayman, CEO of LifeApps.  "We welcome his business acumen and the renewed energy Mr. Roan will bring to the company in building strategies for future growth."
Lawrence Patrick Roan is a National Account Manager for Ultra Flex Packaging Corporation in their Southwest region. He has over twenty years of sales and marketing experience in the commercial printing and consumer packaging business.
"I am honored to be joining the Board of Directors of Life Apps Digital Media Inc.," stated Mr. Roan after his acceptance to the Board. "It is fantastic to be part of an emerging growth company that is positioned to play a part in the expanding market of digital applications and eCommerce Sports platforms."
Mr. Roan was previously with Exopack, LLC, as a National Account Manager for their consumer plastics business.  He managed high volume national accounts as well as key developmental market accounts, and was responsible for transitioning customers with multiple manufacturing sites throughout the U.S.  He is a graduate of the University of Iowa and resides in Southern California.
About LifeApps Digital Media Inc.
LifeApps is a digital media company focusing on health, fitness, sports publications, and next-generation social networks. The company is a leading, authorized developer, publisher and licensee for Apple iOS – iPhone, iPod Touch, and iPad – and Android tablets on Google Play and Kindle Fire and Androids via Amazon Mobile Marketplace. Health, fitness and sports enthusiasts can benefit from the expertise of top-tier sports physicians, performance fitness trainers and professional athletes through LifeApps multi-sport and fitness publications and mobile apps. These subject matter experts create the skills, drills and workouts that are featured in the family of LifeApps Digital Media products and publications.
For more information about LifeApps, please visit: http://www.lifeappsmedia.com
Forward-Looking Statements
This release contains "forward-looking statements" as that term is used under the federal securities laws. Such statements may be identified by the use of words such as "anticipate," "believe," "expect," "future," "may," "will," "would," "should," "plan," "projected," "intend," and similar expressions. These forward-looking statements are subject to various risks and uncertainties that could cause LifeApps' actual results to differ materially from those currently anticipated, including risks and uncertainties relating to the Company's business, product development, marketing and distribution plans and strategies. These and other factors are identified and described in more detail in the Company's filings with the Securities and Exchange Commission (the "SEC") including the Company's annual report on Form 10-K filed with the SEC on April 15, 2015. The Company does not undertake to update these forward-looking statements.